Add a golden touch to everything this fall!
Our new golden latte mix is the perfect addition to add to cupcakes, cakes, frostings and more :)
Our Organic Vegan Golden Milk is the perfect blend of spice and color. This mix contains just the right amount of spices and yellow turmeric powder, a natural anti-inflammatory and antioxidant, giving your tastebuds that "what just happened" feeling!
This golden latte mix is so yummy and versatile that we decided to make delicious golden cupcakes with it, celebrating the beautiful colors of fall!
Light, fluffy, sweet, and balanced with some spiciness! Oh, and they look gorgeous too!
Golden Latte Cupcake Recipe
Ingredients
FOR THE CUPCAKES:
1 scant cup of non-dairy milk (we used unsweetened plain soy milk)
1 tsp apple cider vinegar or lemon juice
1/2 cup neutral oil (such as avocado oil)
1 tsp pure vanilla extract
1 scant cup organic cane sugar
2 Tbs Vegan Golden Milk Mix
1 1/2 cups unbleached all-purpose flour
1 1/2 tsp baking powder
1/2 tsp baking soda
1/4 tsp salt
FOR THE FROSTING:
1/2 cup vegan butter (softened)
1/4 tsp vanilla extract
1 Tbs Vegan Golden Milk Mix
2 cups powdered sugar (sifted)
1 splash of non-dairy milk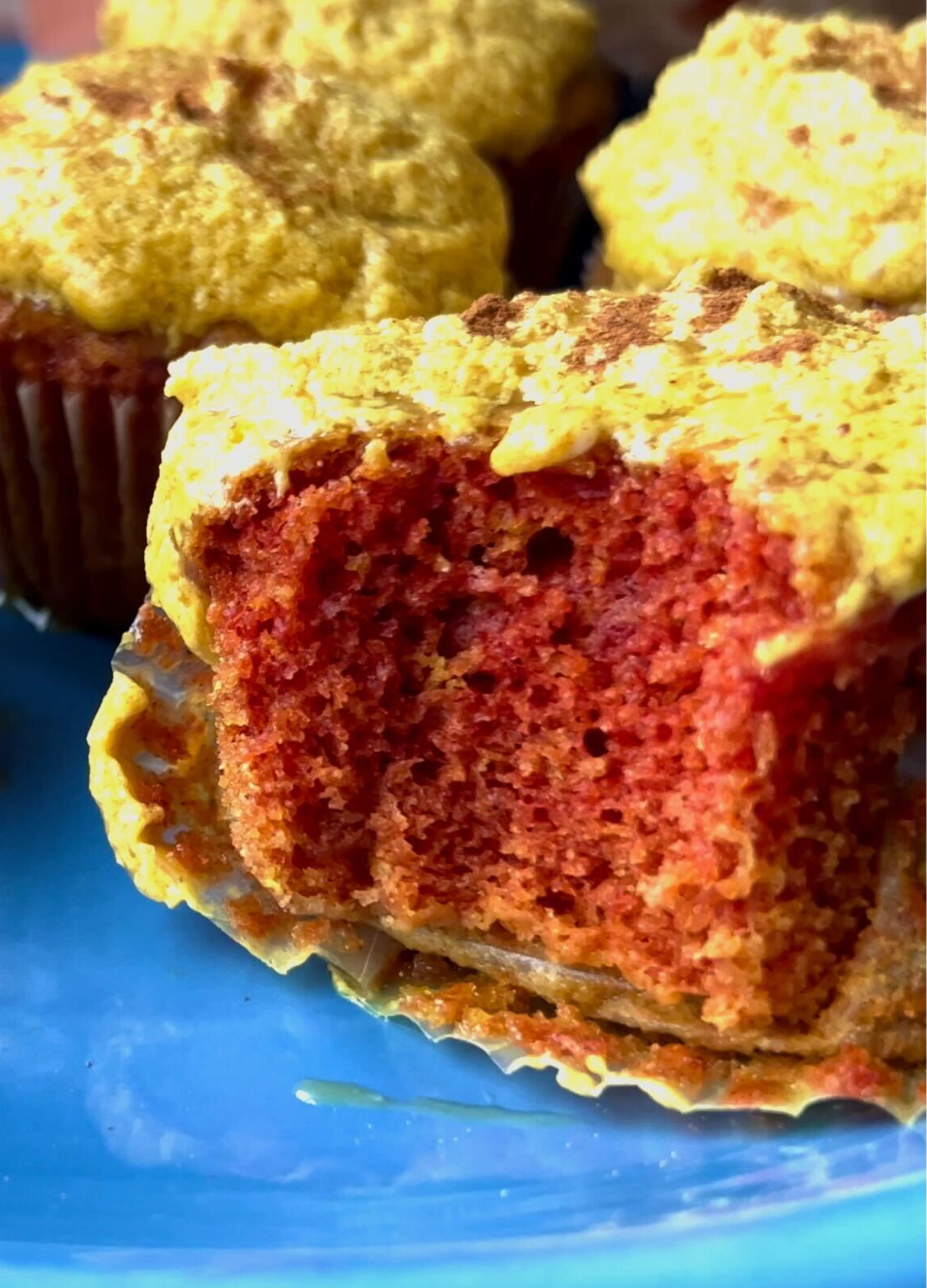 Directions
Preheat the oven to 350 degrees F and line a standard muffin holder with 12 paper liners.
Add non-dairy milk, vinegar, or lemon juice to a large mixing bowl and let it sit for a few minutes to curdle/activate.
Add oil and vanilla and whisk to combine. Then add sugar and whisk to combine/dissolve.
Sift dry ingredients over wet ingredients and use a whisk or hand mixer to blend until well incorporated and no large lumps remain. The texture should be similar to a pancake batter consistency.
Divide the batter evenly among cupcake holders to 3/4 full.
Bake on a center rack for 20 minutes or until a toothpick inserted into the center comes out clean.
Let the cupcakes cool completely on a cooling rack.
Wipe clean your mixing bowl and add softened butter. Beat until light and fluffy. Add vanilla and mix once more.
Add sifted powdered sugar 1/2 cup at a time with 1 Tbs of Golden Milk Mix and continue mixing until thick and creamy.
Once the cupcakes are cool, add the frosting and top with cinnamon.
Serve immediately. Store leftovers covered at room temperature or refrigerated for up to 3 days
WE THINK YOU'LL LIKE THESE RECIPES TOO