Feeling Peachy?
Then you have to try this yummy sourdough pancakes, oozing with peach cobbler topping!
Peach Cobbler Sourdough Pancakes
Ingredients
2 cups all-purpose flour
2 teaspoons baking powder
1 teaspoon baking soda
2 tablespoons sugar
1 teaspoon salt
1 cup sourdough discard (discard is runnier and works best in this recipe)
1 1/2 cups plant milk (or more to thin the batter)
1 vegan egg like Bob's Red Mill Egg Replacer
2 tablespoons vegetable oil
2 tablespoons sugar
3 peaches cut into pieces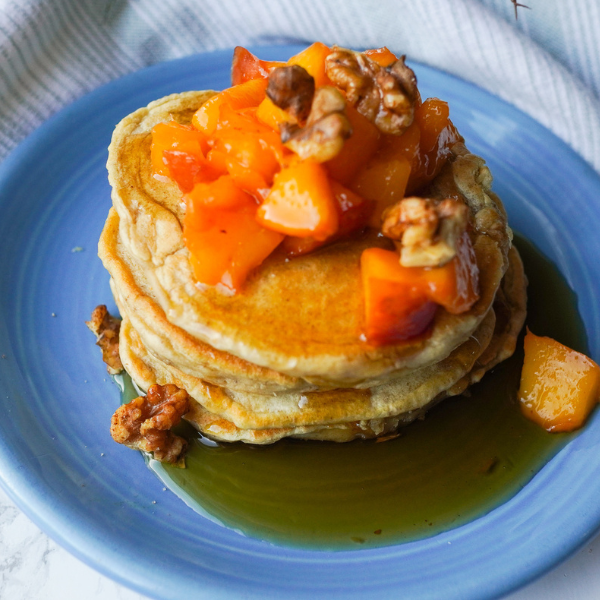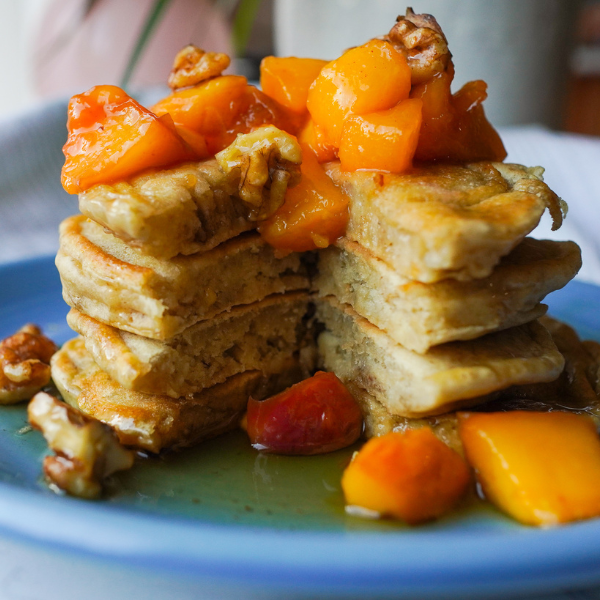 Directions
In a large bowl, whisk together the flour, baking powder, baking soda, sugar, and salt.
Add the sourdough starter, milk, neat egg (or own egg replacer), and oil. Mix well just until combined.
Spray a pancake skillet with cooking spray or grease well with butter. Heat to about 300-350 degrees.
Pour 1/4 cup pancake batter on the hot griddle. Cook until the pancake starts bubbling on top, then flip the pancake.
Cook for 1-2 minutes or until the pancake is cooked through.
Add the sugar and peaches to a skillet, and stir until the sugar has melted and caramelized.
Serve pancakes with peach topping, vegan butter, and maple syrup.
If you prefer watching a video...
WE THINK YOU'LL LIKE THESE TOO