Thankful Hearts And Thankful Tummies!
The holiday season is upon us, and as we gather around tables filled with warmth and gratitude, it's the perfect time to explore the vibrant and delicious world of plant-based Thanksgiving feasting.
Whether you're a seasoned vegan or just looking to incorporate more plant-based options into your holiday menu, this menu is filled with harvest goodness and delectable flavor.
From a savory Spinach and Artichoke Stuffed Mushrooms appetizer that sets the perfect tone for Stuffed Acorn Squash with Quinoa and Cranberries, to ending it with a comforting Apple Crisp dessert, each dish is crafted with wholesome ingredients and a dash of creativity.
Join us as we redefine Thanksgiving classics, proving that plant-based eating can be both nourishing and indulgent. These recipes are sure to elevate your Thanksgiving celebration to a whole new level of yummyness!
Appetizer: spinach & artichoke stuffed mushrooms
Ingredients:
24 large mushrooms, cleaned and stems removed
1 tablespoon olive oil
1 small onion, finely chopped
2 cloves garlic, minced
1 cup frozen spinach, thawed and excess water squeezed out
1 can (14 oz) artichoke hearts, drained and chopped
1 cup vegan cream cheese
1/2 cup nutritional yeast
Salt and pepper to taste
Fresh parsley for garnish
Directions:
Preheat the oven to 375°F (190°C).
Place the mushrooms on a baking sheet.
In a pan, heat olive oil over medium heat. Add onions and garlic, sauté until softened.
Add chopped spinach and artichoke hearts to the pan, cook for a few minutes until heated through.
In a bowl, mix together the vegetable mixture, vegan cream cheese, nutritional yeast, salt, and pepper.
Stuff each mushroom cap with the spinach and artichoke mixture.
Bake for 15-20 minutes or until mushrooms are tender.
Sprinkle with vegan parmesan for extra cheesy flavor and garnish with fresh parsley before serving.
Can't find vegan cream cheese? Try shredded vegan mozzarella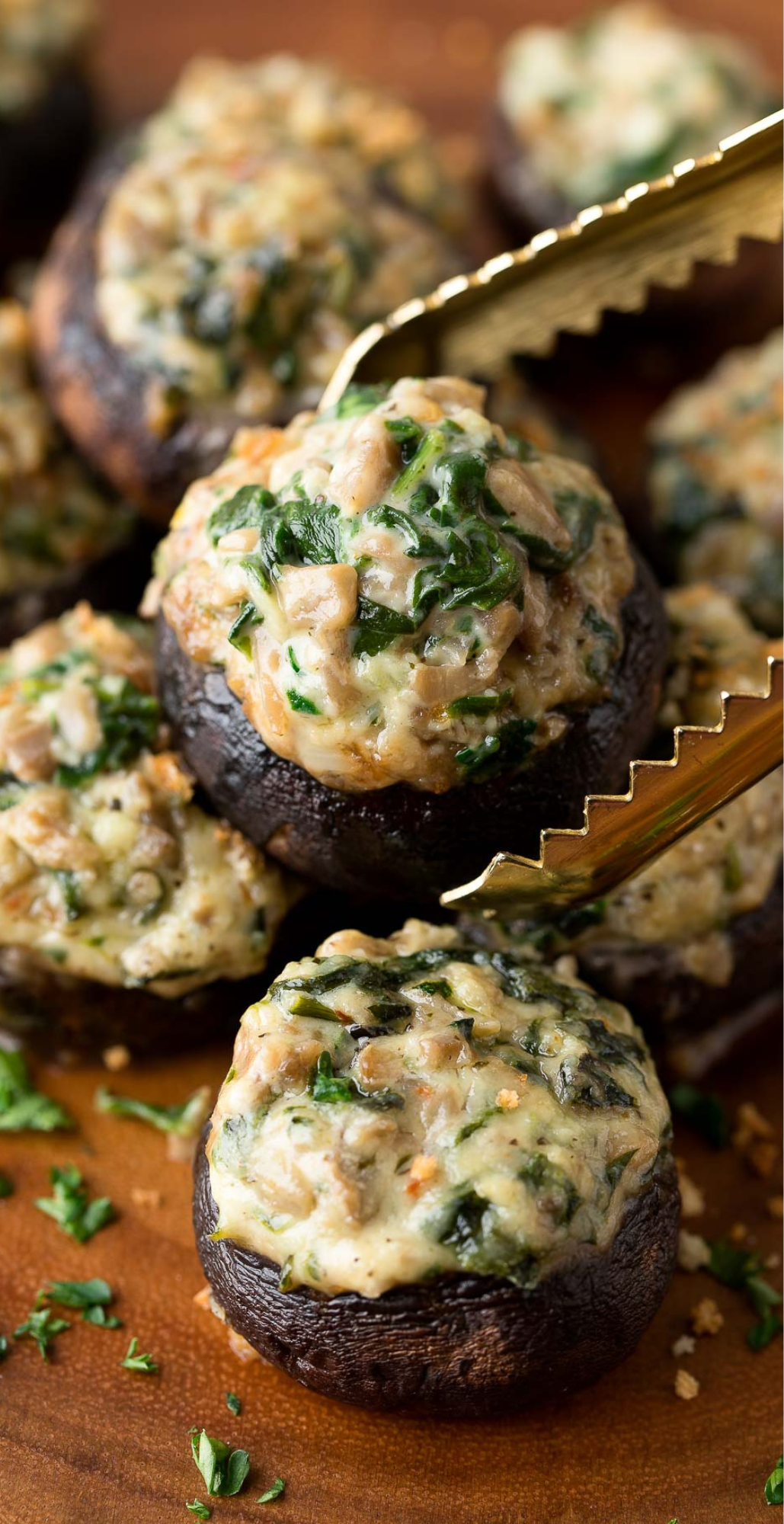 Salad: Fig, Blackberry & Arugula Salad With Honey Balsamic Dressing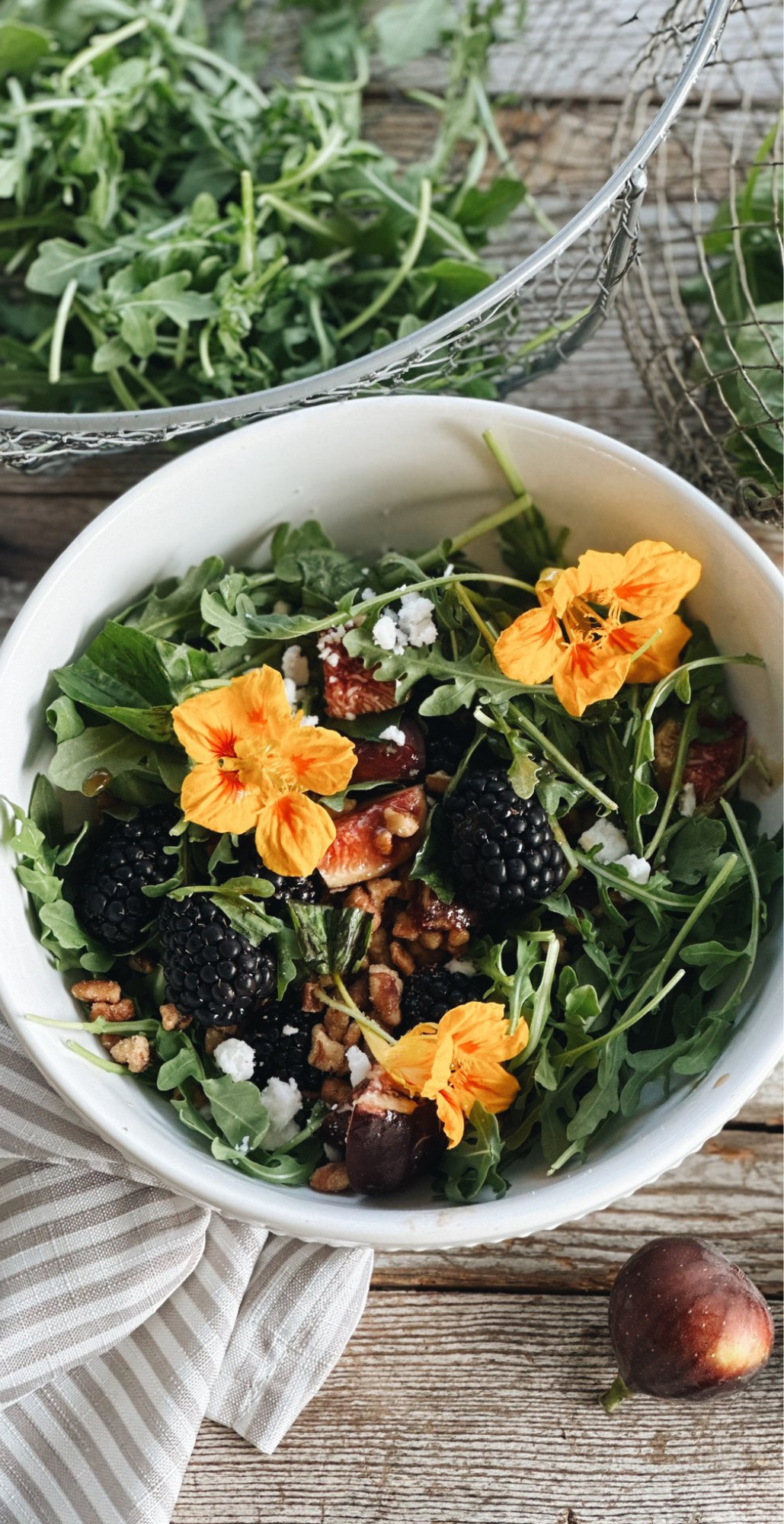 Ingredients:
For the salad
4 cups arugula( washed and dried)
6-8 Fresh Figs, washed, stems removed, and quartered
1 cup of fresh blackberries
1/2 cup of vegan feta
1/2 cup pecan halves (honey roasted is good too)
3-4 basil leaves, chiffonade
For the dressing
2 Tbs balsamic vinegar
1 Tbs raw honey
1 tsp Dijon mustard
1/4 cup extra virgin olive oil
1 clove of garlic, smashed
Salt and pepper to taste
Directions:
Whisk the dressing ingredients together and set aside
Arrange the arugula in a salad bowl, add the figs, feta, almonds, and fresh blackberries.
Just before serving, add the dressing and toss.
Add some edible flowers for a gorgeous pop of color and extra nutrients.
Enjoy it on its own or as a side dish.
This delicious recipe is from Azure Farm
MAIN: STUFFED ACORN SQUASH WITH QUINOA & CRANBERRIES
Ingredients:
Directions:
Preheat the oven to 375°F (190°C).
Place the acorn squash halves on a baking sheet, drizzle with olive oil, and season with salt and pepper.
Roast the squash for 30-40 minutes or until fork-tender.
While the squash is roasting, cook the quinoa in vegetable broth according to package instructions.
In a pan, sauté the onion and garlic in olive oil until softened. Add cooked quinoa, cranberries, pecans, sage, salt, and pepper. Mix well.
Once the squash is done, stuff each half with the quinoa mixture.
Return the stuffed squashes to the oven and bake for an additional 15-20 minutes until heated through
Why not add a delicious vegan meat loaf? Thanksgiving dinner can be ready in an hour with our new 'Not Meatloaf' and 'Not Turkey Roast' vegan meatloaf mixes.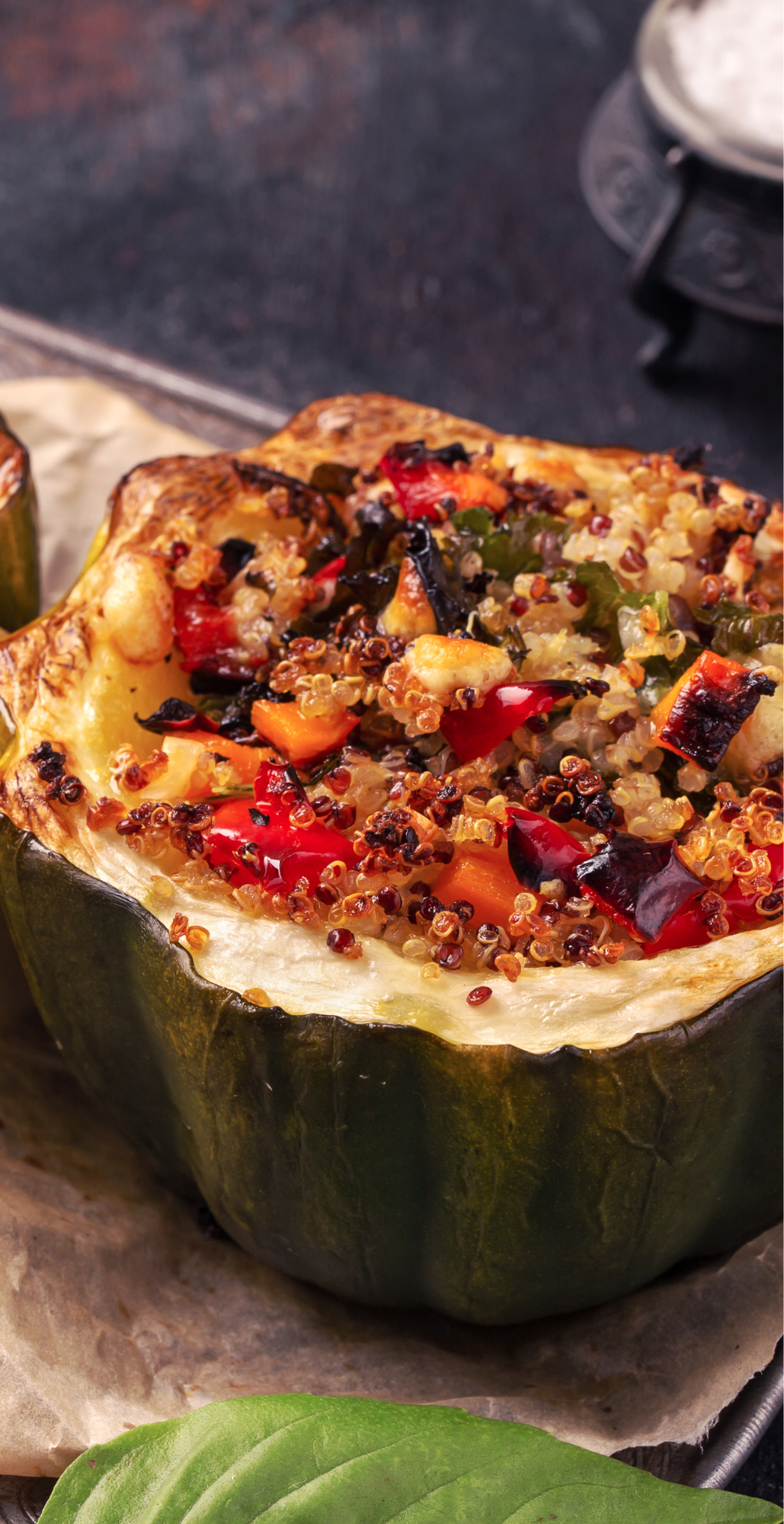 DESSERT: APPLE CRISP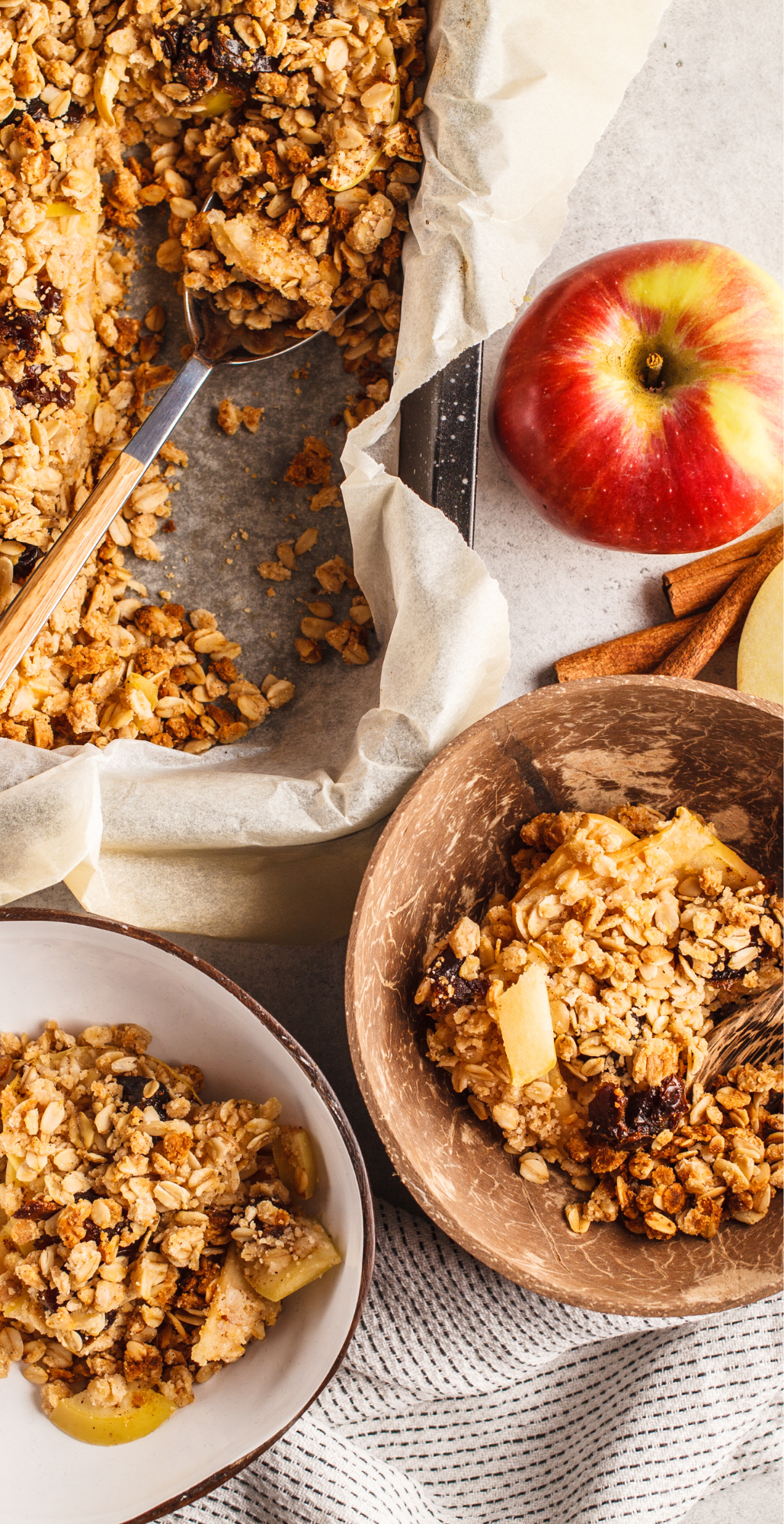 Ingredients:
For the filling:
For the topping:
Directions:
Preheat the oven to 350°F (175°C).
In a large bowl, toss the sliced apples with maple syrup, lemon juice, cinnamon, and nutmeg. Transfer to a baking dish.
In another bowl, combine the oats, almond flour, melted coconut oil, maple syrup, cinnamon, and salt. Mix until crumbly.
Sprinkle the oat mixture evenly over the apples in the baking dish. Top with carob chips for extra "chocolately" sweetness.
Bake for 35-40 minutes, or until the topping is golden brown and the apples are tender.
Allow it to cool for a few minutes before serving.
Serve warm, optionally with a scoop of vegan vanilla ice cream or custard.
Or try this delicious fall favorite, Butternut Squash Pie!
SHOP THESE RECIPES HERE
.
NEED MORE IDEAS? CHECK OUT OUR PREVIOUS MENUS!