good food shared with good friends
Is so much more enjoyable and even more so when being thankful for it!
Thanksgiving is all about sharing hearty meals with family and friends, giving thanks, and appreciating all your blessings.
If you have been looking for some yummy plant-based dish inspiration for Thanksgiving, you need to keep on reading!
These delicious dishes offer a great variety of fresh, warm, hearty, and healthy! Crunchy, creamy, sweet, and spicy! Your tastebuds will be happy, and your heart content!
Starter: Roasted Pumpkin Soup and Sourdough Bread
Salads: Cauliflower Garbanzo Salad, Harvest Kale Caesar Salad
Main: Hearty Lentil Shepherds Pie
Dessert: Luscious Tres Leches Cake
Roasted Pumpkin Soup and Sourdough Bread
INGREDIENTS ⁠
DIRECTIONS
Roast pumpkins tossed with olive oil and salt and pepper at 356 F for 30 - 40 minutes (until golden and tender)
Caramelize the onions in butter in a pot or a deep dish pan.
Add curry and paprika. Cook for 3 - 5 minutes.
Deglaze with broth, and then add the roasted pumpkin and cook until the pumpkin is soft enough to puree.
Puree your mixture in a blender until smooth and add back into the pot
Whisk in coconut milk and stir through, cooking for 5 minutes.
Ladle into serving bowls, drizzle with coconut cream, and top with pumpkin seeds.
Serve with sourdough bread (get the sourdough recipe here).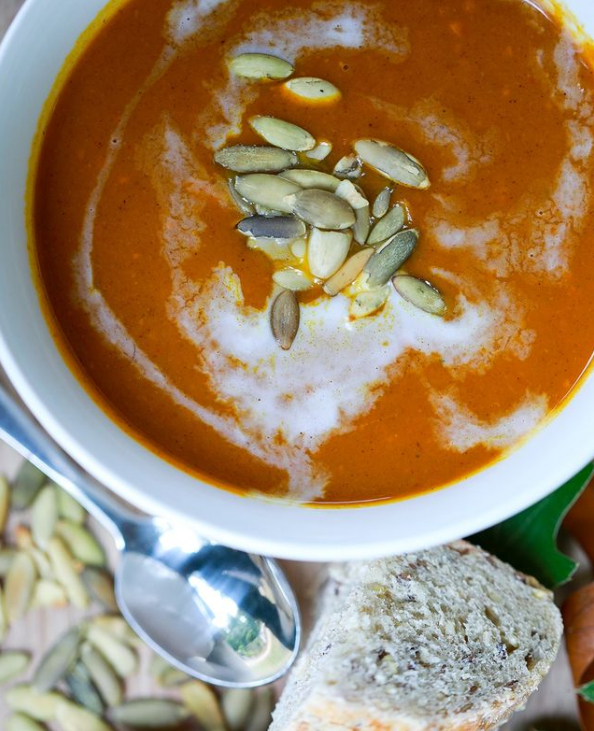 Cauliflower Garbanzo Salad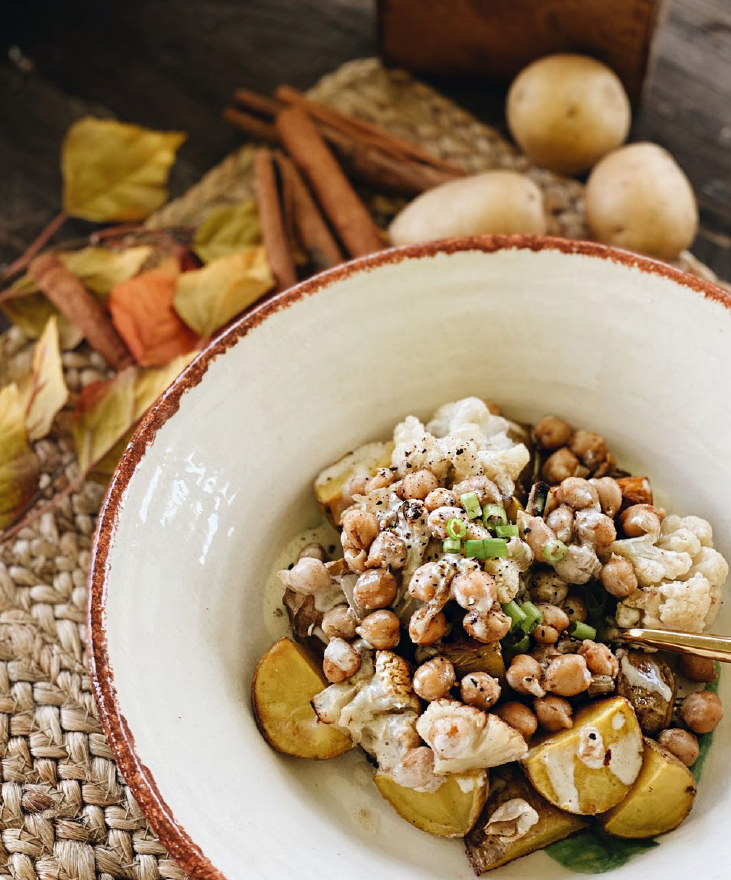 INGREDIENTS ⁠
DIRECTIONS⁠
Roast cauliflower and potatoes drizzled with olive oil and salt at 400 F for 30 min until tender and browning.⁠
In a small saucepan, sauté onions until translucent, add garbanzo beans and spices, and cook for 10 minutes.
Serve roasted veggies topped with garbanzo mix and drizzle with cashew sauce. ⁠
CASHEW CREAM SAUCE
Soak 1/2 cup of cashews overnight. Add soaked cashews, juice of 1 orange, 1 cup unsweetened almond milk, 2 garlic cloves, 1/4 tsp salt, and 1/4 tsp cinnamon to a blender and blend until smooth.
harvest kale caesar salad
INGREDIENTS
For the Kale Caesar Dressing:
1 1/2 lemons, juiced
1/4 cup (60 ml) tahini
2 cloves garlic, finely chopped
2 - 3 tbsp filtered water to thin
For the salad:
1 bunch washed kale (315g, or approx. 6 large stems)
1/2 cup

raw cashews

2 tbsp hemp hearts
1 apple, thinly sliced
1/3 cup pomegranate seeds
2 tbsp

dried cranberries

3 dates, pits removed and chopped
Sea salt and pepper to taste
DIRECTIONS
For the dressing: In a small bowl, add lemon juice, tahini, chopped garlic, and sea salt. Whisk to combine. Add 2-3 tbsp water to thin until desired dressing consistency.
Tear kale leaves into small bite-sized pieces, and place in a large mixing bowl.
Pour dressing over kale leaves and toss to combine.
Roast cashews in a saucepan on medium heat, occasionally stirring until cashews are browned (approx. 6-8 minutes).
Let cashews cool slightly, then chop and sprinkle over kale salad. Add hemp hearts and toss to combine.
Transfer salad to a serving bowl and top with sliced apple, pomegranate seeds, cranberries, and chopped dates. Season with salt and pepper and serve.
This delicious recipe is from Two Spoons.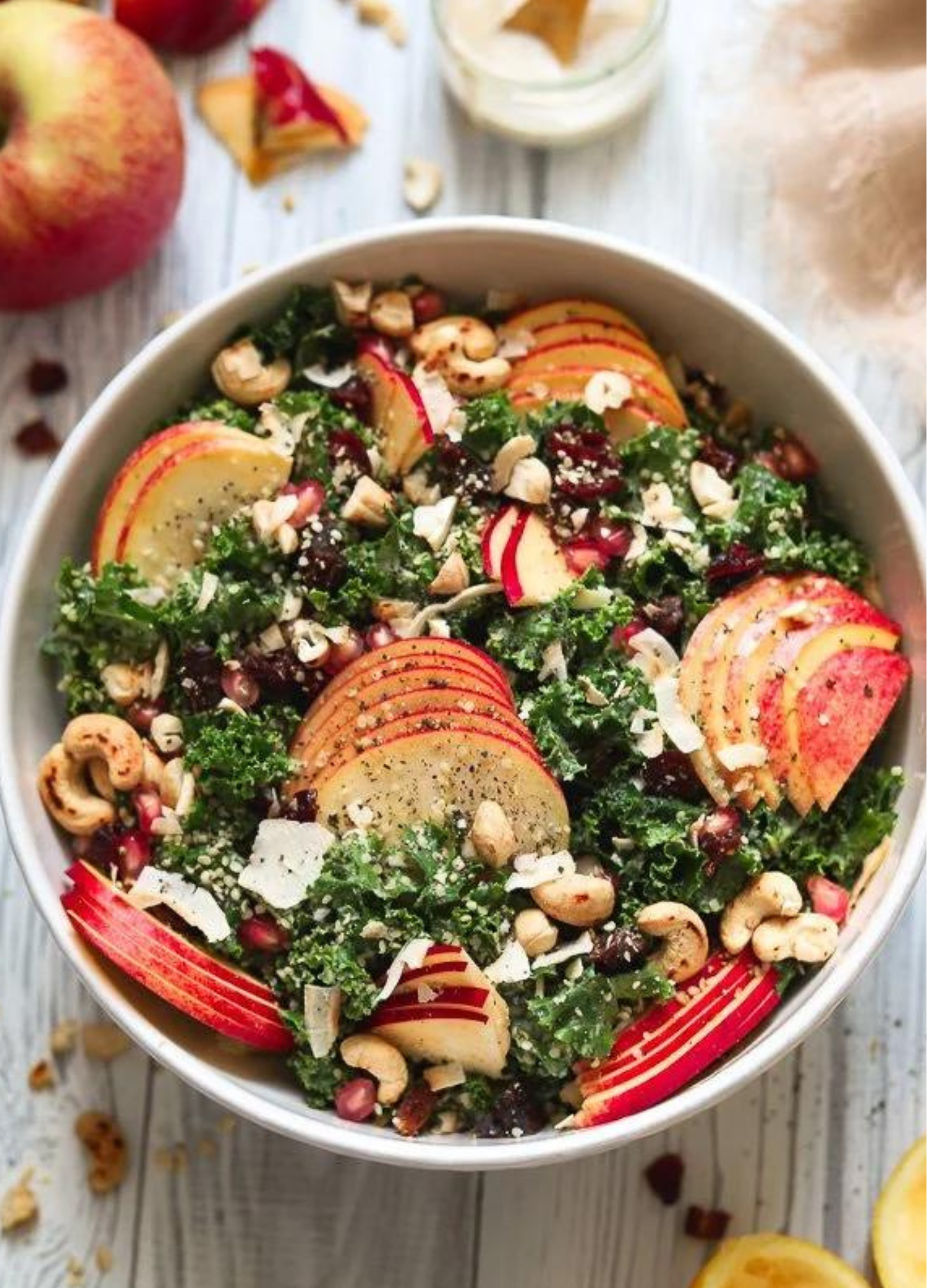 Hearty LENTIL SHEPHERDS PIE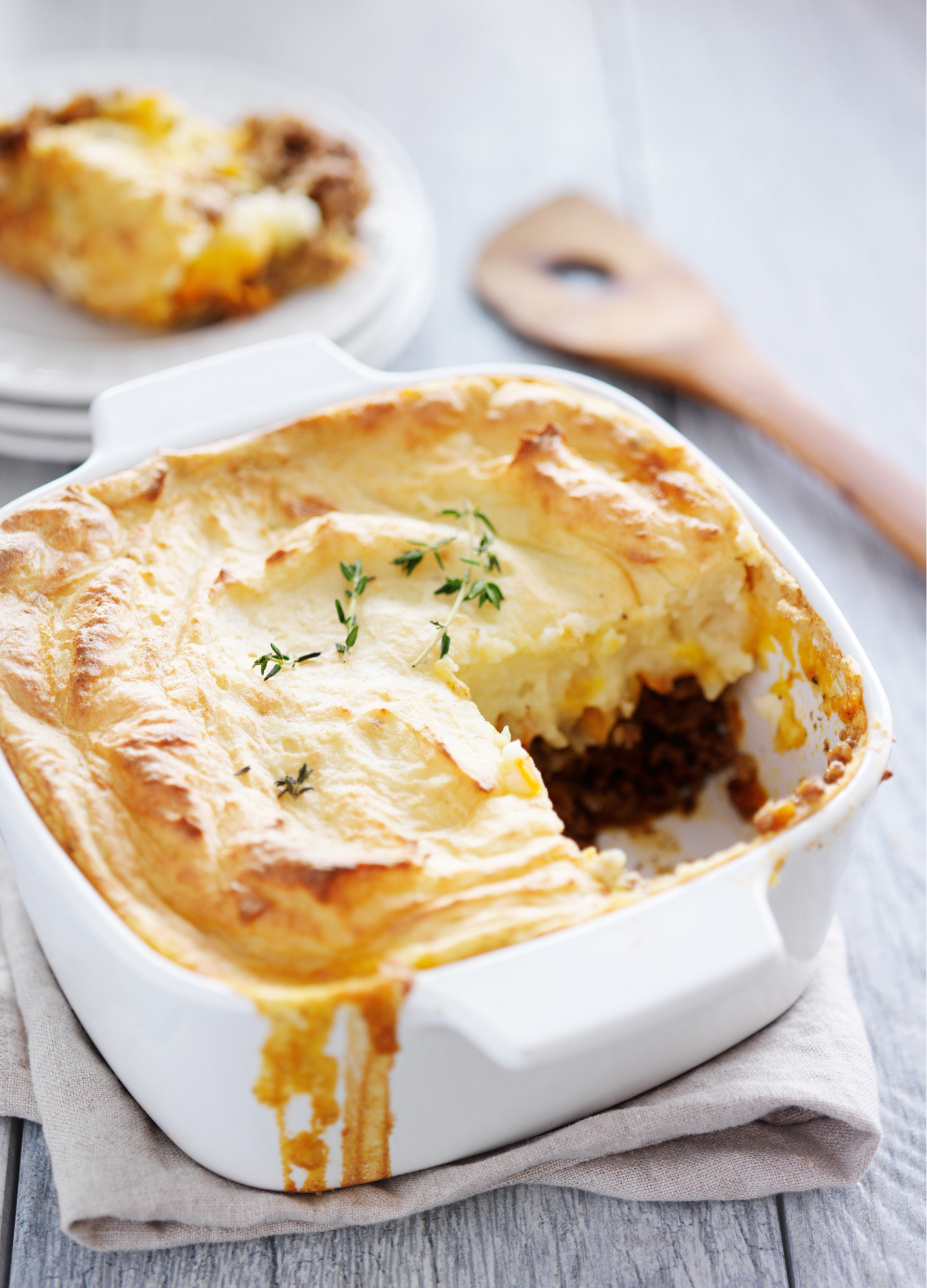 INGREDIENTS
DIRECTIONS
Add french lentils, carrots, and diced onions to a pan
Add nutritional yeast, salt, remaining herbs, and garlic.
Add water, boil, and let it simmer on low heat.
Add green peas right before the lentils are almost cooked soft. Add water as needed. The water needs to be cooked off to make the pie.
Spread cooked lentils in a baking dish and top with mashed potatoes.
Bake at 350 F for 30 - 45 minutes until the mashed potatoes and golden and crispy.
Garnish with chopped parsley or rosemary twigs.
Luscious VEGAN TRES LECHES (Three milk cake)
INGREDIENTS
For the cake:
For the milk mixture:
DIRECTIONS
Preheat the oven to 350 degrees F and grease a 9×13 inch cake pan.
Mix soy milk and vinegar in a bowl and set aside to curdle.
In a large bowl, mix the flour, cornstarch, sugar, baking powder, baking soda, and salt.
Add the milk/vinegar mix, oil, and vanilla and whisk until there are no large lumps left.
Pour the batter into the cake pan and bake for 20-25 minutes, until a toothpick inserted in the center comes out clean.
Remove from oven and let the cake cool for 15 minutes. The cake should still be warm when you pour the milk over it; it will absorb better.
Prepare the milk mixture by pouring the coconut milk into a large microwave-safe bowl and heat for 1 minute.
Add the sweetened condensed coconut milk and oat milk to the bowl with the coconut milk and whisk well.
Poke holes all over the cake, down to the bottom of the pan, and slowly pour the milk mixture over the cake.
Refrigerate the cake for an hour to let it soak up the milk.
Add coconut whipped cream all over, sprinkle with cinnamon and coconut shavings, and sliced strawberries.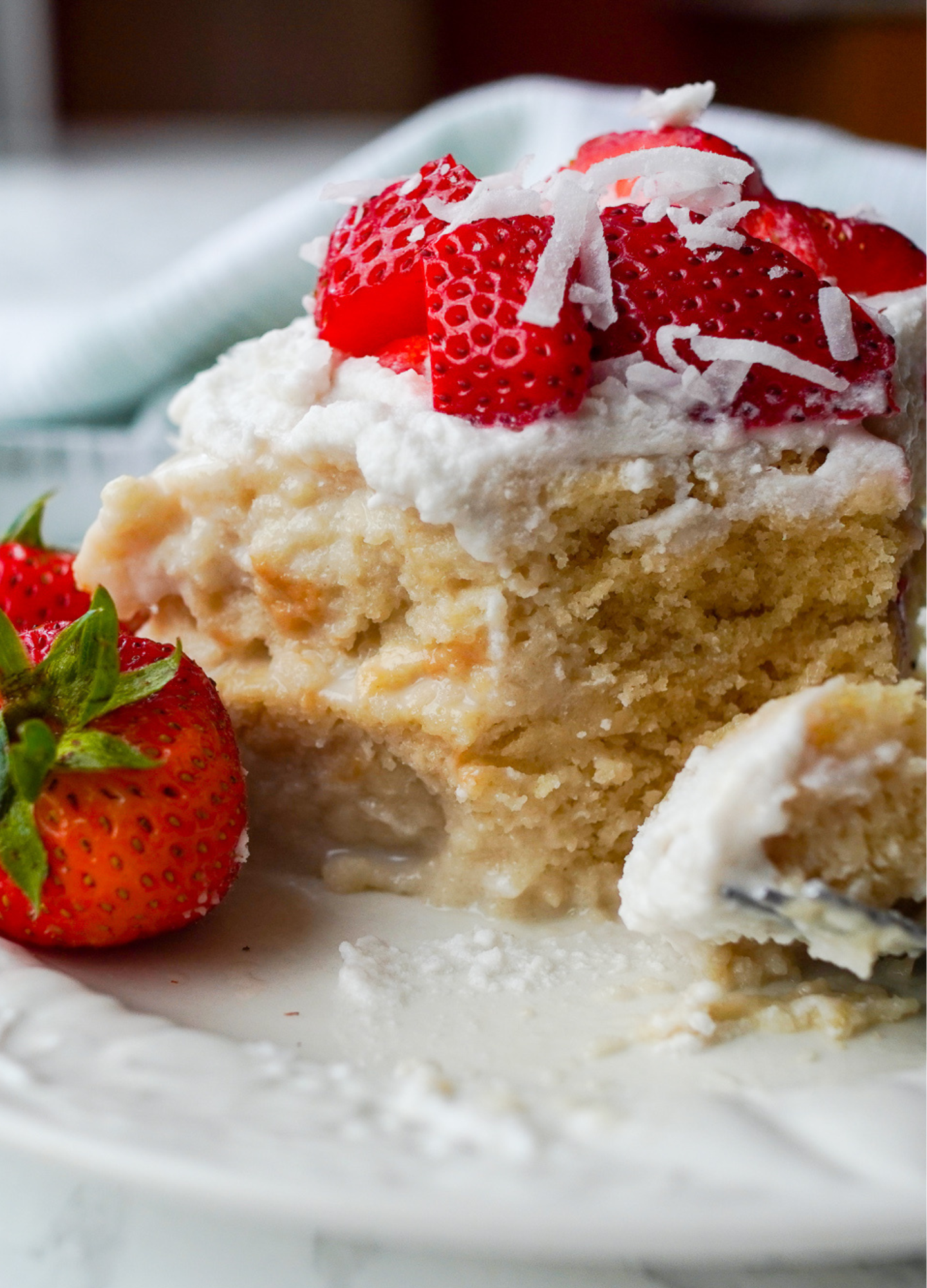 WE THINK YOU'LL LIKE THESE RECIPES TOO