Bridge The Gap In Your Fitness & Nutritional Goals
WITH THE HELP OF NUTS
Consuming the correct amount of protein as an athlete can be challenging, particularly if you exercise regularly or don't consume animal products.
And this is where nuts can take you from second to first place. Ok, ok, actually, hard work and dedication will do that, but nuts deserve a spot in your training plan too ;-)
When it comes to enhancing your performance, recovery, and reaching your protein macronutrient goals, consuming the most effective nuts could make all the difference.
In this blog post, we'll explore why nuts are a superfood for athletes and look at the six best nuts for athletes, along with their nutritional information and health benefits.
why nuts?
Nuts have long been recognized as a healthy snack option, but they are also an excellent energy-boosting food for athletes.
Whether you're a professional athlete or simply enjoy working out, nuts can provide energy, "good" fats, protein, and essential nutrients to help support your fitness goals.
Nuts are also excellent anti-inflammatory foods, packed with flavonoids and phytochemicals. Phytochemicals are naturally occurring beneficial chemical compounds in food that act as antioxidants and reduce inflammation. They also limit the growth of problematic cells.
If you are an athlete, you would know how inflammation can set you back! And this is where nuts can really provide that nutritional boost to combat inflammation and offer many other health benefits which we will explore below.
What about the high fat content in nuts?
Often, this is the one reason people avoid nuts. Yes, nuts are calorie-dense and high in fat, but they are laden with the heart-healthy kinds such as omega 3 and 6. Nuts contain only minor amounts of saturated or "unhealthy" fats, and their nutritional benefits far outweigh these small amounts.
Tip! To improve digestion and boost the bioavailability of all the good stuff found in nuts, soak or "sprout" them.
Scroll down for the top 6 nuts for athletes, along with all the excellent benefits they offer, all crucial if you are looking to perform at your best!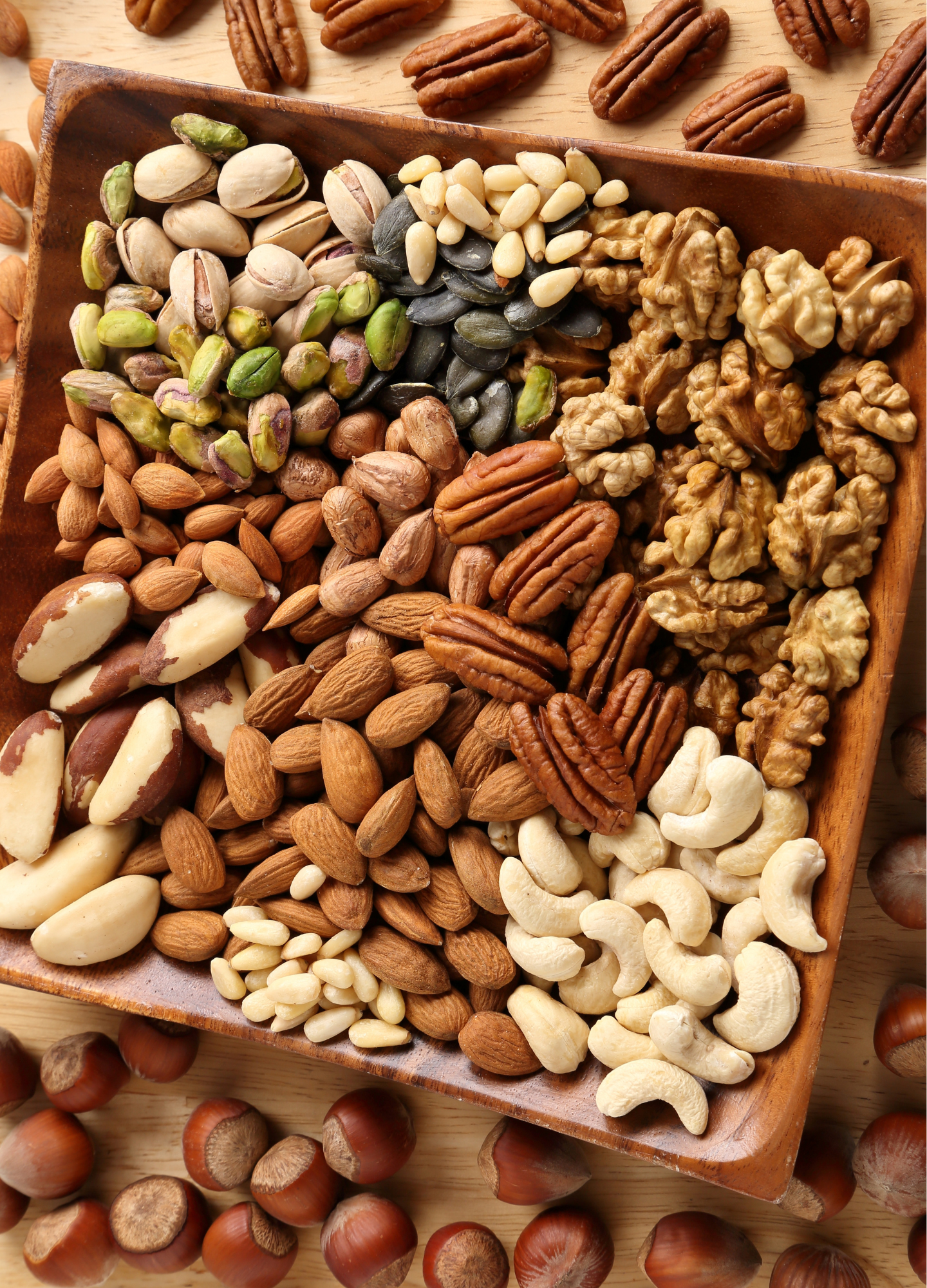 6 of the best nuts for athletes
nuts for the win!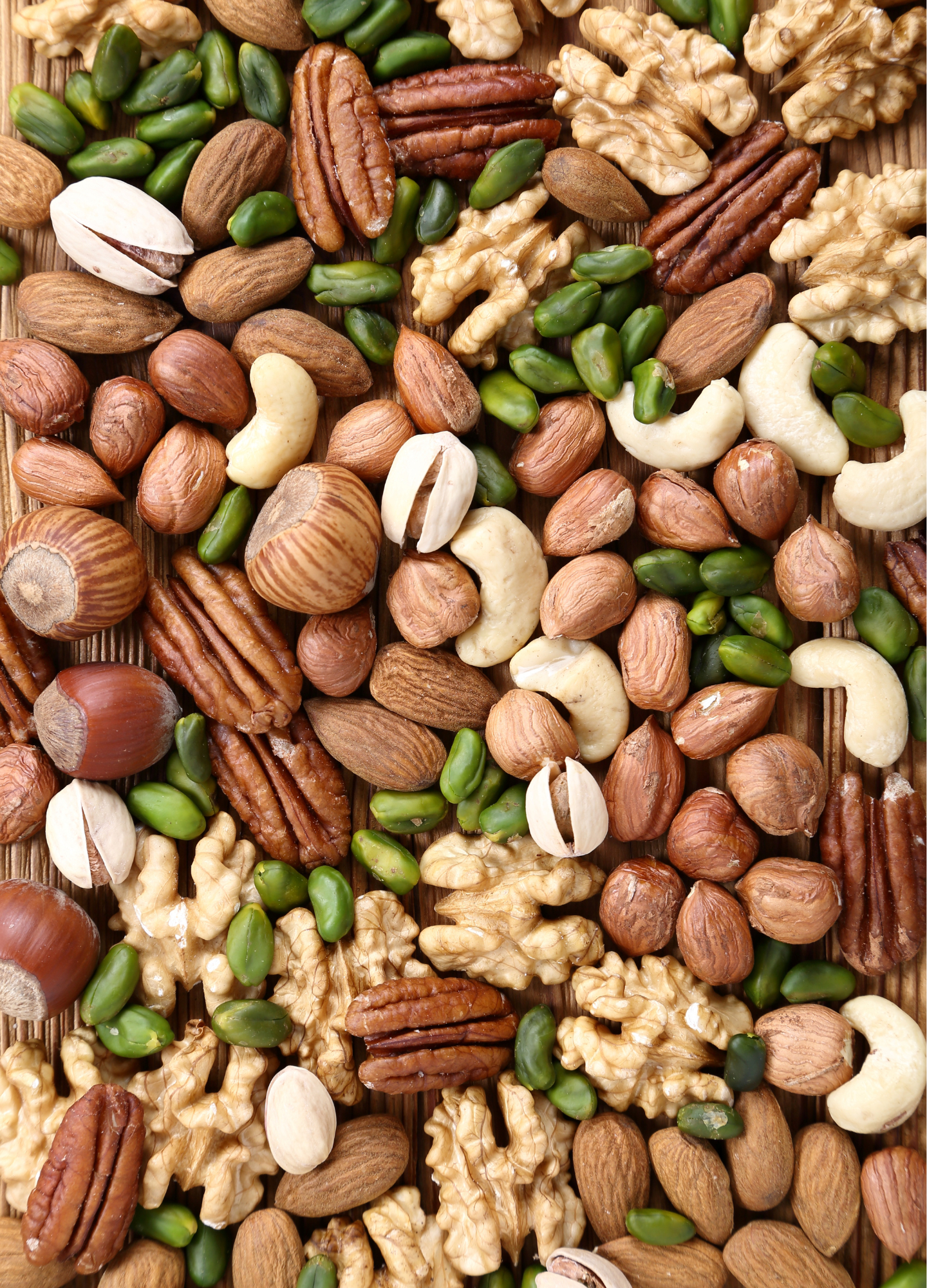 As you can see, nuts are an excellent food option for athletes. Their protein, healthy fats, antioxidants, and essential nutrients can help support your athletic performance and recovery.
Each of these six nuts has a unique nutritional profile and health benefits, making them a great addition to an athlete's diet. So don't hesitate to mix it up and reap all the different benefits they offer!
In addition to their nutritional benefits, nuts are convenient and easy to incorporate into your diet:
Grab a handful as a snack
Add to smoothies or oatmeal
Make homemade trail mix
Use it as a topping for salads or roasted vegetables, or
Enjoy as a nut butter on toast or fruit.
However, remember that nuts are calorie-dense, so they should be consumed in moderation. A handful of nuts (about 1 ounce) is a good serving size for a snack. Except for Brazil nuts, of course!
In addition to incorporating nuts into your diet, focus on maintaining a well-rounded and balanced diet that includes plenty of fruits, vegetables, whole grains, lean or plant-based proteins, and healthy fats.
And remember, hydration is vital for athletes, so drink plenty of water and electrolyte-rich beverages.
By incorporating nuts into your diet and maintaining a healthy lifestyle, you can support your athletic goals and overall wellness!
WE'VE GOT A WHOLE RANGE OF NUTS TO CHOOSE FROM - VIEW THEM HERE!