IS IT TIME TO GET A WELL STOCKED VEGAN PANTRY?
🢚 Have you recently switched to a vegan or plant-based diet?
🢚 Do you find it difficult to properly stock your vegan pantry?
🢚 Are you running out of ideas to make delicious, not-boring, nutritious meals?
🢚 Tired of searching Pinterest for recipe ideas, only to be sucked into the rabbit hole of endless scrolling, ending up with bedroom decor ideas?
If you answered yes to any of these questions, this list of vegan pantry staples will become your holy grail!
Having these essentials on hand will make vegan and plant-based cooking a joy. No more time-wasting scrolling or been-there-done-that tomato pasta. Although we must admit, there's nothing wrong with a good old yummy tomato pasta ;-)
Here are our top 30 suggestions to stock your vegan pantry with. You will be able to whip up mouth-watering meals in no time!
PROTEIN SOURCES
Beans are crucial to any plant-based diet as they make the base for many meals. They are excellent sources of protein and fiber and will make up the bulk of your daily protein requirements. Kidney beans, black beans, pinto beans, green peas, and cannellini beans are all excellent choices.
Dry beans will help you get more bang for your buck, whereas canned beans are more convenient. Always choose low-sodium varieties.
Like beans, lentils are also central to a vegan or plant-based diet. They are a very versatile food and can take the place of meat in many dishes. Lentils are packed with protein and fiber. Red, green, and red lentils are some of the most widely available varieties.
Chickpeas are also part of the legume family and are a favorite among vegans. And rightfully so! Chickpeas have a lovely nutty taste and you can use them in many ways. They can be roasted for a snack, mashed to make hummus, and used in curries, stews, soups, pasta, salad, and much more. You can even use the aquafaba from canned chickpeas as a direct replacement for egg whites.
Tofu is a curd made from mashed soybeans. It has many health benefits and is another excellent replacement for meat to increase your protein intake. As the legumes above, they can be used in many dishes, even for breakfast. Like this yummy breakfast burrito or BBQ burrito tofu scramble.
READ MORE: 5 Health Benefits of Tofu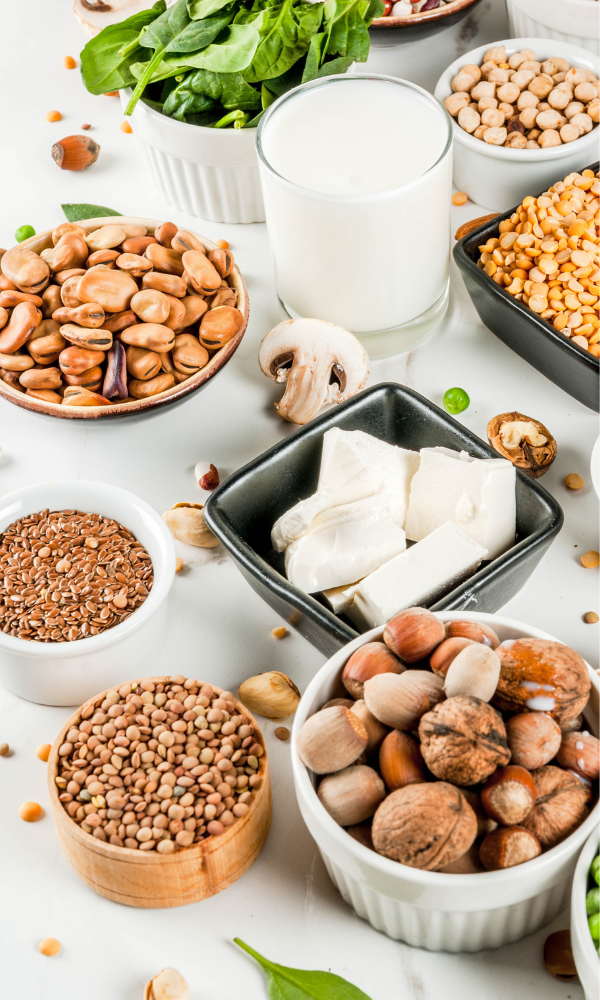 HEALTHY CARBOHYDRATES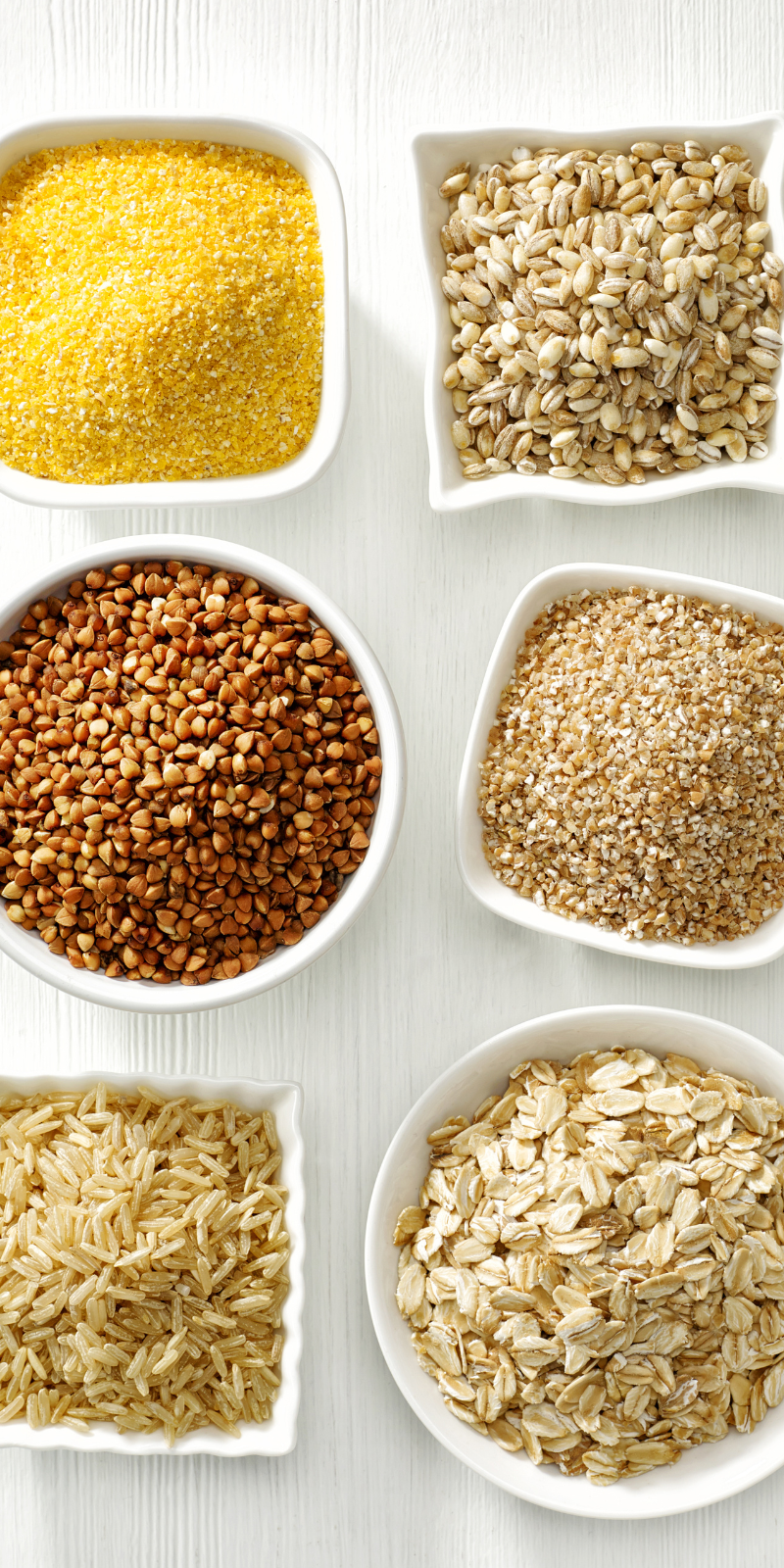 It may come as no surprise that pasta is on this list - it is indeed a staple that should be in a vegan pantry. Whole-wheat pasta will fill you up and keep you fuller for longer, as opposed to refined pasta, thanks to its fiber content. It is also a fantastic carbohydrate source to give you that much-needed energy. Pasta makes for a quick and easy meal any time of the day.
Whole grain or brown rice also contains more fiber than their white processed rice partners. Best of all, rice is gluten-free, making it great for those who are gluten intolerant or have celiac disease. Rice can be enjoyed warm or cold as a delicious rice salad.
Quinoa is a superfood in our books. It has many health benefits, including being gluten-free, a complete protein, and high in fiber. Add quinoa to soups or stews for substance, enjoy for breakfast or as a sweet snack, or serve a quinoa salad as a side dish.
READ MORE: 8 Reasons Why Quinoa Is Good For You
Buckwheat, barley, millet, and spelt berries are super whole-grains that you can include in your diet. These will all provide essential carbs for energy and fiber for a healthy gut. You do not need all these grains and the others listed above, but having 3-4 varieties will leave you with many options to experiment with and keep cooking interesting.
Oats are always a stalwart as a breakfast option and are one of the healthiest options for breakfast with a fantastic nutritional profile. It contains soluble fiber that lowers blood glucose and cholesterol levels and reduces the risk of heart disease and diabetes. Beta-glucan also promotes healthy gut bacteria and intestinal health.
Granola may have a bad rep, but if you choose wisely and enjoy it in moderation, it can be a great addition to your pantry as a breakfast option. Granola provides crunch to your yogurt, fruit salad, or salad and works perfectly as a quick energy-boosting snack.
READ MORE: How To Choose A Healthy Granola
GOOD-FOR-YOU FATS
Looking for a snack? Nuts are the way to go! Nuts are a rich source of plant protein, dietary fiber, and heart-healthy fats (including plant omega-3 fatty acids). They also contain many vitamins and minerals (such as vitamin E, magnesium, phosphorus, copper, and manganese) and a collection of plant chemicals with potent antioxidant and anti-inflammatory properties. Almonds, brazil nuts, hazelnuts, and walnuts are great choices.
Nut butter like peanut butter or almond butter is a must in any vegan pantry. Nut butter provides a good dose of healthy fats and plant-based protein. Enjoy it on a slice of bread sprinkled with seeds, mixed into a smoothie, on sliced apple, or even to make curries creamier. Use nut butter in moderation as it is calorie-dense.
Seeds are high in fiber and an excellent source of healthy omega-3 fatty acids. Chia seeds contain antioxidants such as caffeic acid, chlorogenic acid, kaempferol, and quercetin. These all help reduce free radicals in the body and fight inflammation that causes chronic diseases. Use chia seeds in smoothies, breakfast cereal, baked goods, salads, or even as an egg replacer.
READ MORE: Why Are Chia Seeds Good For You? 8 Benefits!
Flaxseed can improve digestive health or relieve constipation. Flaxseed may also help lower total blood cholesterol and LDL or "bad" cholesterol levels, which may help reduce chronic illnesses and heart disease. It is rich in fiber and can help with weight loss. Ground flaxseed can be used in baking, added to smoothies, and used as a thickener, binder, and gluten-free breadcrumb substitute.
Pumpkin seeds are bigger, making them a great versatile seed. Add to salads, granola, cookies, bread, or to garnish soup. Make yummy brittle, add sugar and pumpkin-pie spice and roast them for a sweet snack, or add them to your oatmeal. There are so many possibilities!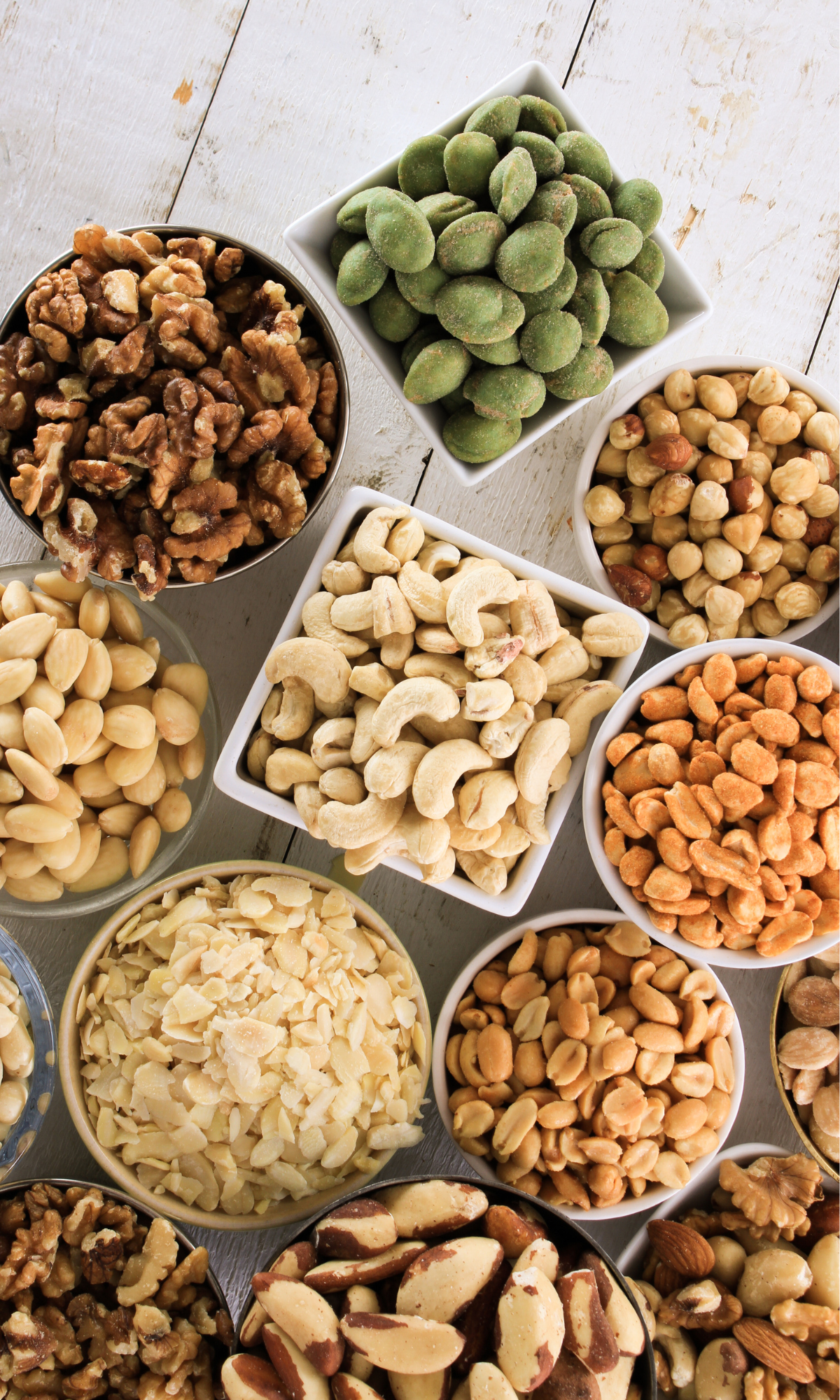 HEALTHIER SNACKING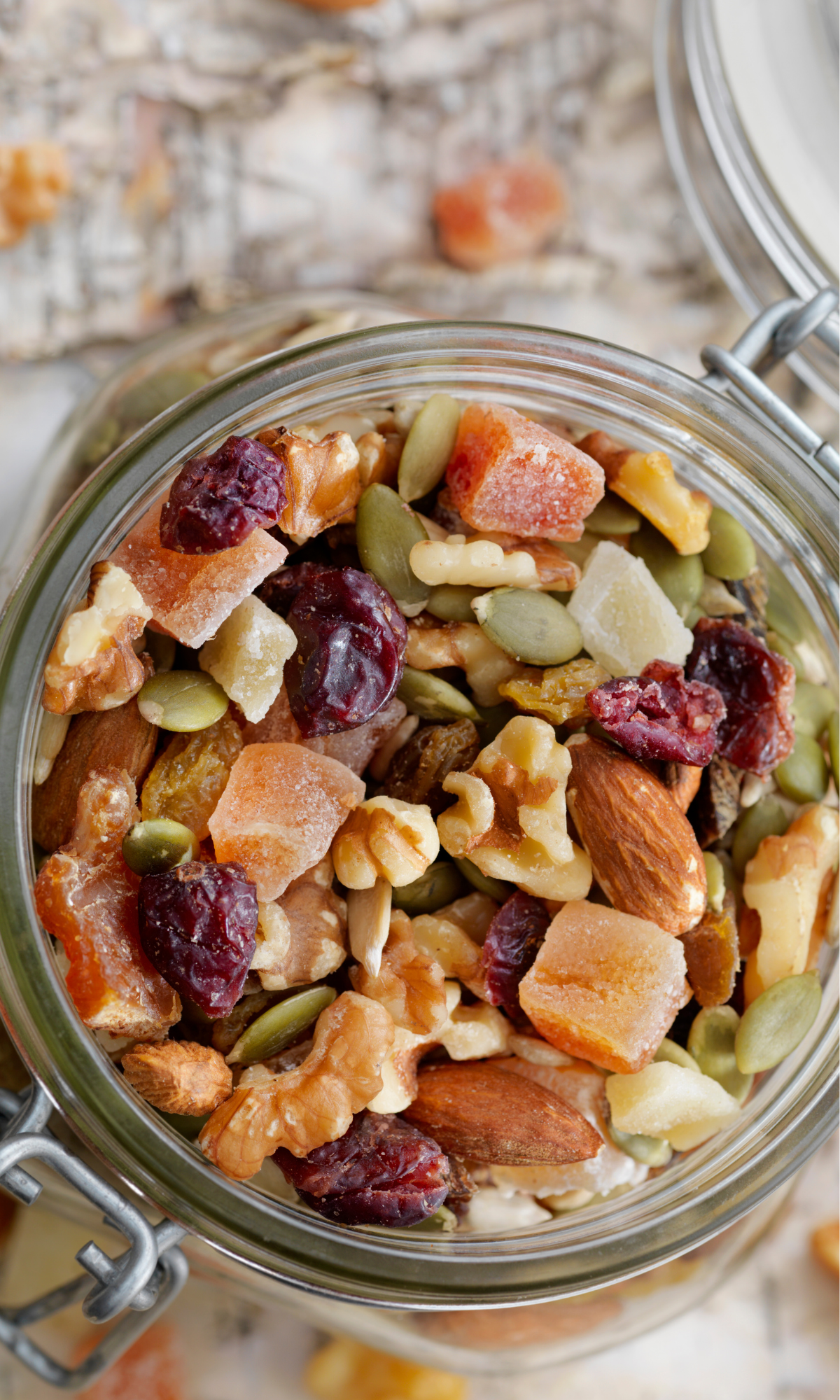 Fresh fruit will always be a healthier choice. Still, when unavailable, dried fruit can make a more nutritious sweet snack than candy or chocolate. Dried fruit also works great in your morning granola for added sweetness or mixed with plant-based yogurt. Always choose low-sugar varieties.
Trail mix is a winner on-the-go snack. Whether you make homemade trail mix or buy from the store (like the delicious ones we've got!), it is convenient and a good all-rounder. A mix of nuts, seeds, dried fruit, and oats will raise your energy levels and provide protein, fiber, good fat, and vitamins. Beware of added sugars in store-bought products and try to choose a trail mix that only contains natural ingredients.
Feeling snacky in the afternoon or need game day snacks? Opt for healthier savory snacks like sesame sticks, roasted soynuts, or rice chips. They contain less saturated fats than a bag of chips and have other added benefits such as fiber or protein.
READ MORE: 14 On-The-Go Healthy Snacks
When a sweet craving strikes, be prepared! Carob-coated almonds or raisins and vegan unsweetened chocolate can be life savers. We all need a bit of sweetness in life, right?!
READ MORE: What Is The Difference Between Carob And Chocolate?
BAKING
No need to give up baked goods on a whole-food, plant-based diet. You can still enjoy your favorite bread or cakes! You only need to focus on whole grain flours and find vegan replacements. Some excellent options include whole wheat flour, spelt flour, chickpea flour, and oat flour.
Did you know you can use flax or chia seeds mixed with water to create a gel-like consistency similar to egg white? For each required egg, mix 1 tablespoon ground flax or chia seeds with 3 tablespoons water and leave to thicken for about 5 minutes.
But, if making an egg replacer seems like too much work (we totally understand!), having Neat Egg Replacement Mix on hand will make cooking a breeze! It is a shelf-stable product and can be used in any baking recipe.
READ MORE: Butter, Dairy, and Egg Replacements For Vegan Baking
Almond, oat, soy, coconut, and rice milk are all plant-based milk options. A variety in your pantry will ensure you are ready for whatever a recipe calls for. Look for unsweetened, unflavored varieties with very short ingredient lists.
Sweeten dessert recipes, smoothies, and warm drinks with healthier sugar alternatives such as applesauce, date syrup, maple syrup, or organic honey.
READ MORE: How To Choose The Best Types Of Honey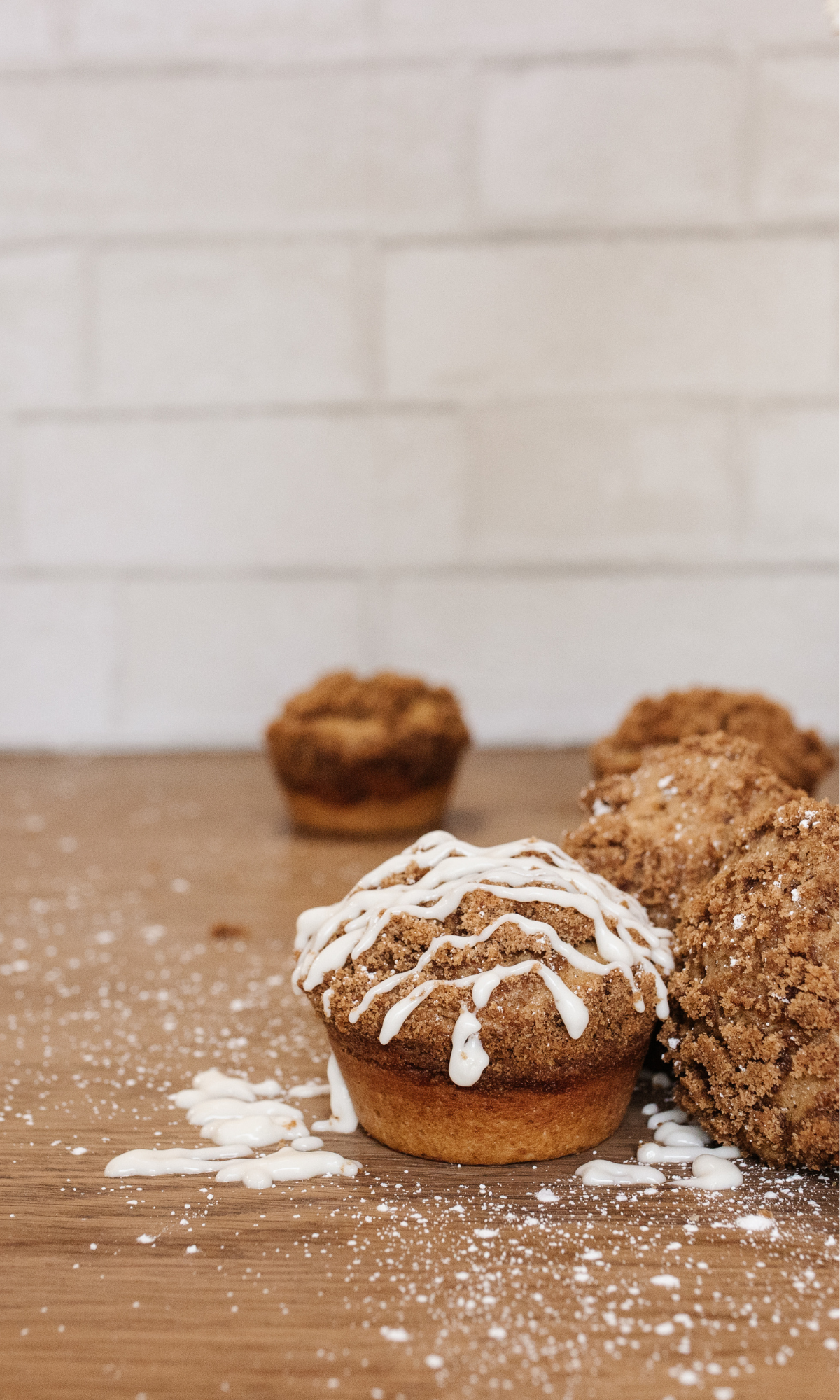 COOKING ESSENTIALS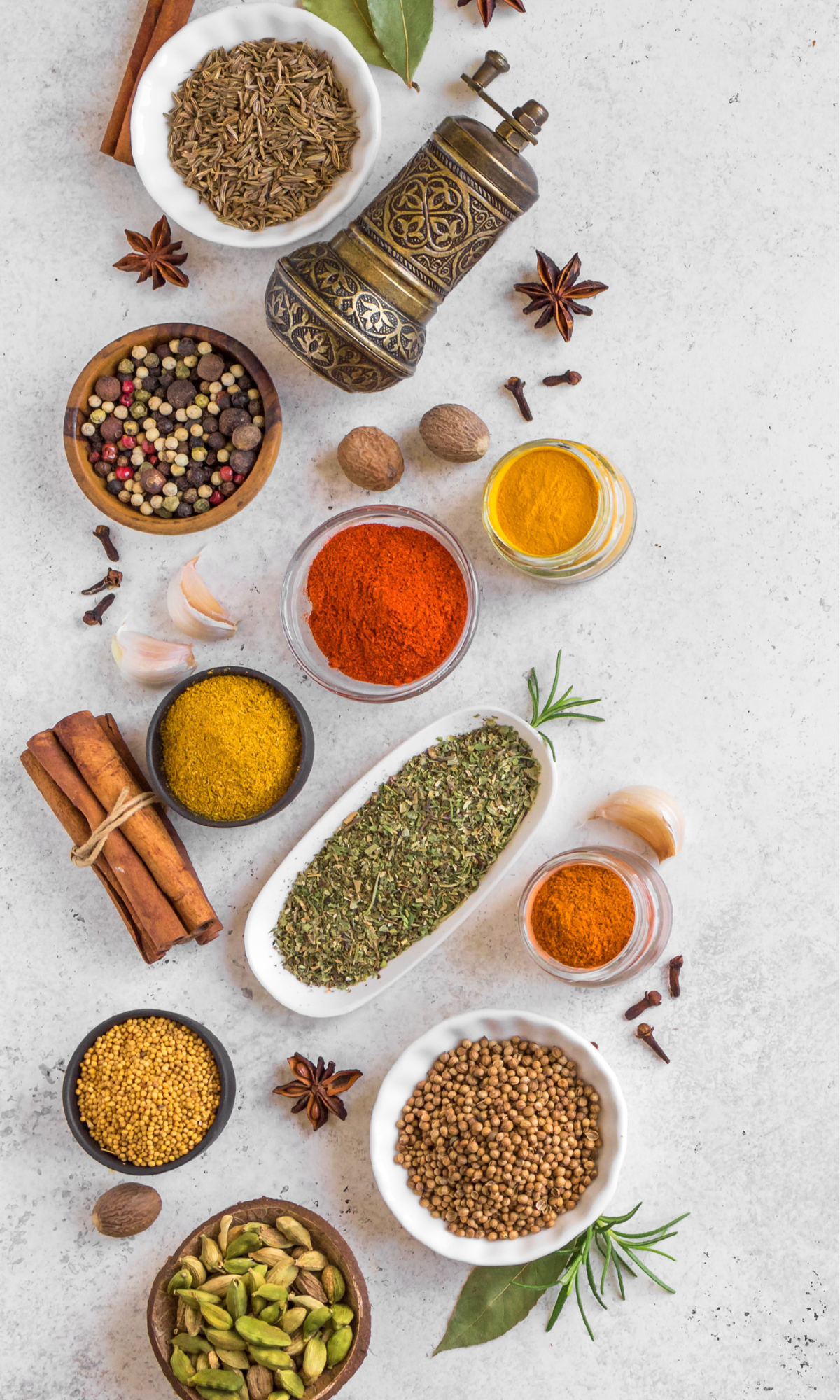 The under-the-radar superhero. Nutritional yeast can boost immunity and lower cholesterol. It contains essential B vitamins and minerals and is also an excellent dietary source of fiber and protein! If you're looking for a vegan version of a dish that includes melted cheese or parmesan cheese, you probably want to use nutritional yeast.
READ MORE: 8 Ways To Use Nutritional Yeast
Nonperishable veggie broth is handy when you want to sip on some soup, infuse flavor in cooked grains like rice, risotto, and quinoa, or use as a base for curries, stews, and soup.
If you find it challenging to make plant-based cooking exciting and want to limit your salt and preservative intake, herbs and spices can significantly spruce up your cooking and meals. Dried herbs can keep a long time in your pantry and works excellent when fresh herbs are out of season. We love our new range of Tofu Scramble Seasoning, Vegan Parmesan, and Not Chicken Spice - it makes life easier and oh so delicious!
Some basic condiments, such as soy sauce, vegan mayonnaise, salad dressing, cranberry reduction, and salsa, can add extra moisture and flavor to salads, wraps, sandwiches, and more. Avoid products with high sugar or sodium content, often hidden in many of these products.
For frying, use canola, refined olive, avocado, vegetable, safflower, and peanut oil.
For baking, use neutral-tasting oil, like canola oil or vegetable oil.
For sauteing and searing, use canola, extra-virgin olive, safflower, peanut, and sesame oil.
Balsamic, brown rice, red wine, white wine, and apple cider vinegar are all options to use for salads, making dressings, or pickling.
GET ALL YOUR VEGAN PANTRY STAPLES HERE
.
WE THINK YOU'LL LIKE THESE READS TOO