WHOEVER SAID YOU CANNOT EAT CAKE FOR BREAKFAST, WE DISSAGREE ;-)
This carrot cake overnight oats recipe, is not only super yummy, but also super healthy with all its beneficial ingredients.
CARROT CAKE OVERNIGHT OATS SUPER INGREDIENTS
OATS
------
Oats contain soluble fiber that can lowers blood sugar levels, and reduce LDL levels
Fiber also helps you to feel full to manage your weight.
Rich in antioxidants and anti-inflammatory properties.
Promotes healthy bacteria in your gut.
Eases constipation and promotes bowel regularity.
Lowers your chance of colon cancer due to the high fiber content.
CHIA SEEDS
------
Increase antioxidants that help reduce free radicals in the body
The caffeic acid in chia seeds helps to fight inflammation.
Chia seeds contain ALA (alpha-linolenic acid), a fatty omega-3 acid that balances the omega 3 to omega 6 ratio in the body.
Contains flavanoids that can reduce the risk of heart diseases.
Chia seeds contain several bone strengthing nutrients, including calcium, magnesium, and phosphorus.
FLAX SEEDS
------
Loaded with nutrients such as manganese, magnesium, copper, and zinc.
Flaxseed is particularly high in thiamine, a B vitamin that plays a key role in energy metabolism as well as cell function.
Excellent source of omega-3 fatty acids crucial for heart health, and may help lower cholesterol levels and reduce inflammation.
Flaxseed contain lignans, plant compounds, that have cancer-fighting properties.
Rich in fiber. 1 Tablespoon packs 2 grams of fiber.
CARROTS
------
Carrots are rich in beta carotene, which your body converts into vitamin A. Beta carotene improves your vision and helps with overall growth, development, and immune function.
Contain plant compounds that have antioxidant and anti-inflammatory properties
Eatign carrots can help fight cancers and heart disease.
CARROT CAKE OVERNIGHT OATS RECIPE
INGREDIENTS
1/2 Cup Oats
1 Tbs Chia Seeds
1 Tbs Flax Seeds
1/2 Tsp Cinnamon
1/4 Tsp Vanilla Extract
1 spoonful of crushed pineapple
2 Tbs grated carrot
2 Tbs Coconut Sugar or 1 Tbs Maple syrup
1 Tbs Walnuts
Raisins and Coconut (optional)
1/2 Cup Plant Milk
Yogurt frosting: Vanilla Vegan Yogurt
DIRECTIONS
Add all ingredients to a glass jar or plastic container that has a lid.
Stir until well mixed.
Add the yogurt frosting on top
Store for at least 4 hours, ideally overnight.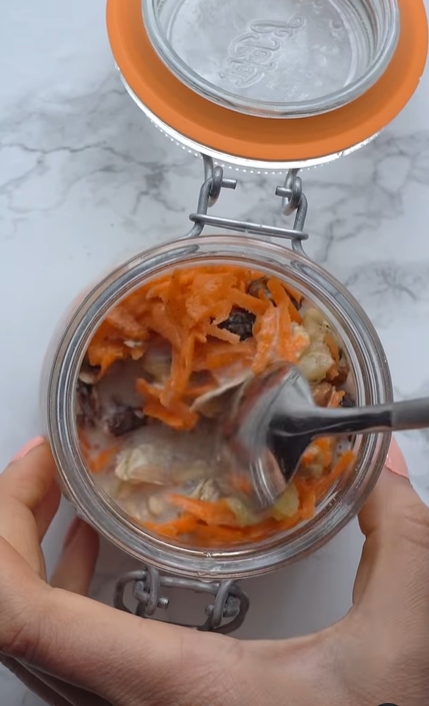 IF YOU LIKE WATCHING A VIDEO INSTEAD...
WE THINK YOU'LL LIKE THESE RECIPES TOO