"It's a comfort to always find pasta in the cupboard and garlic and parsley in the garden"—true words spoken by Alice Louis Waters, famous for creating the farm-to-table movement.
And we couldn't agree more!
Pasta never disappoints and is such a versatile go-to dish.
Need a quick dinner? Pasta!
Need to make lunch for the kids? Pasta!
Have a large family get-together? Pasta!
This ultra-yum, mouth-watering, creamy pasta recipe with our delicious romesco sauce is a winner!
The sauce bursts with flavor and is a fantastic accompaniment to basically anything! Toss it with pasta, grilled vegetables, or cooked garbanzo beans served with rice.
FETTUCINI PASTA WITH KALE AND ROMESCO SAUCE
INGREDIENTS
For the Romesco Sauce:
2 cups cherry tomatoes
2 oven-roasted red peppers
5 cloves of garlic
1 cup raw almonds
2 Tbs olive oil
1 Tbs Italian Seasoning
Juice of 1 large lemon
1.5 tsp smoked paprika
1 tsp salt
For the Kale:
2 cups chopped kale
1 Tbs olive oil
2-3 cloves of garlic crushed
1 tsp red pepper flakes
1/2 tsp salt
1 box of fettuccine or pasta of choice
DIRECTIONS
Roast peppers in the oven first. Cut the peppers in half and add a little olive oil. Broil for 20 minutes, turning every 5-7 minutes. Once the skins are soft and a bit charred, they are ready.
Cook pasta to al dente (cook in water with a few garlic cloves and salt)
In a sauté pan, heat olive oil and garlic. Sauté for 2 minutes, then add kale and pepper flakes. Mix and cook for 5 minutes, then set aside.
In a food processor, blend all sauce ingredients, including roasted peppers. Blend until well mixed.
Add cooked pasta to the kale and add sauce. Toss until all is mixed.
Serve with a sprinkle of nutritional yeast flakes, chopped parsley, and/or extra red pepper flakes if desired. Enjoy!!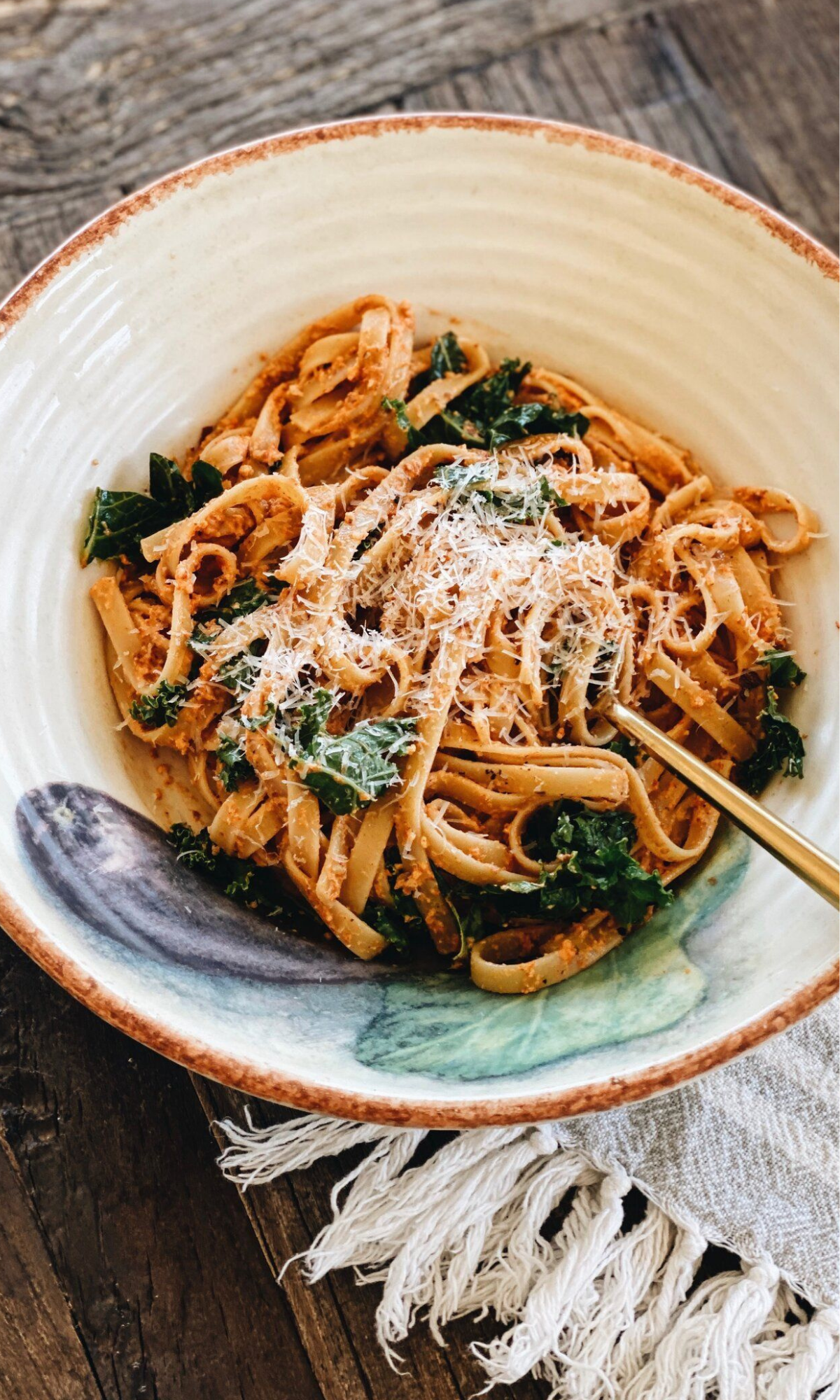 WE THINK YOU'LL LIKE THESE RECIPES TOO