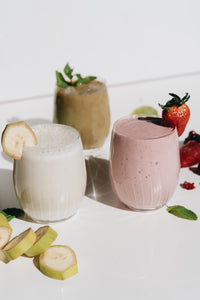 Are you looking for a healthy breakfast or a good meal for before/after a workout? Well look no further!
Here are a few simple, delicious smoothie recipes!
 This strawberry smoothie is perfect for breakfast! You can add chia seeds or oats to add more texture!
 It's finally summer, and this simple watermelon smoothie is a perfect drink for a hot day! It's refreshing, and who doesn't love watermelon?
 This peach smoothie is one of my favorites! The maple syrup and cinnamon compliment the sweetness of the peaches perfectly!
 You can never go wrong with cherries, this smoothie is perfect! If you'd like to add a little bit of cocoa powder you can add a nice chocolate taste! 
 If you like blueberries, you'll love this smoothie! You can also try fresh blueberries for a fresher taste! 
 Orange juice is great, but have you tried an orange smoothie? It's definitely worth the try!
Smoothie Tips:
Use frozen fruit. You can use ice if you don't have any frozen fruit, but using frozen fruit gives it a better consistency. It also eliminates any watery texture.
Blend from low to high. Try starting on a lower speed and then gradually increasing the speed to high to get an even, smooth blend. This also helps make sure all of the frozen fruit gets blended. 
Use more milk if needed! If the smoothie is still too thick or isn't blending well, don't be afraid to gradually add a little more milk to get the desired consistency. 
Have fun! Have fun exploring different ingredients, adding more fruits, and making these simple recipes your own! 
You can find ingredients like flax seed, chia seeds, oats, and many others that would be delicious in smoothies on our website!