Ok, first, let's get the pronunciation of this superfood out of the way.... KEEN-WAH
Although it looks like and is considered a whole grain, quinoa is technically a seed, and it doesn't grow on grass as rice, wheat, and oats do.
Locals from the Andes Mountains have been cultivating it for roughly 5000 years, and there are more than 120 know varieties. But, in the grocery store, you would typically find them as white, red, or black quinoa grains.
Quinoa takes on the flavor of the dish it is cooked with, but on its own, it has a nutty flavor with a crunchy texture. Many say it tastes like brown rice, but for everyone, it differs and is quite unique...
If you have been looking for ways to eat more healthy or get in extra fiber and nutrients, continue reading to discover why you may want to consider quinoa.
8 REASONS TO EAT MORE QUINOA
1. IT'S GLUTEN-FREE
------
Quinoa is gluten-free, making it excellent for people with Celiac or Chron's disease or those with gluten sensitivity or intolerance.
This way, you can satisfy your carb craving without the not-so-pleasant aftermath caused by gluten products.
Sure, rice and potatoes are also gluten-free. Still, they don't contain all the magic nutrients, fiber, and essential amino acids that quinoa does.
2. EXCELLENT FIBER SOURCE
------
You're in luck with fiber when it comes to quinoa, as it's one of the top fiber sources in the carbohydrate group.
One cup of quinoa has 5g of fiber, which is a fifth of the recommended daily amount for women and a sixth for men.
Fiber is crucial for digestive health, keeping you fuller for longer, and reducing blood sugar spikes, among other benefits.
3. A COMPLETE PROTEIN
------
Quinoa is a complete protein. This means it contains all 9 essential amino acids the body needs to get from external sources as it cannot generate them.
Protein and amino acids are crucial for muscle growth, recovery, brain function, and cell regeneration.
With 8 grams of protein per cup, quinoa is perfect for increasing your daily protein intake, especially following a plant-based, vegan, or vegetarian diet.
4. IT CONTAINS CRUCIAL MINERALS & VITAMINS
------
We often fail to get enough vital minerals and vitamins through our diet.
Eating quinoa will ensure you get a healthy dose of iron, magnesium, manganese, zinc, potassium, and folate. All support healthy connective tissue growth, cell regeneration, muscle repair and metabolism, and brain functionality.
1 Cup of quinoa will supply you with:
2.76 mg of iron (15% of the DV), 118 mg (28% of the DV) of magnesium, 2.02 mg of zinc (13% of the DV), 1.17 mg of manganese (51% of the DV), and 77.7 mg of folate (19.43 of the DV).
MORE HEALTH BENEFITS OF QUINOA
5. HEART HEALTH
Quinoa contains Phytochemicals like nicotiflorin and rutin, and phytosterols and fiber that irrespectively lower high blood pressure and help to reduce bad cholesterol levels.
It also contains healthy fats like oleic acid and ALA (omega-3) fatty acids that can reduce the risk of heart disease. Most foods lose their healthy fatty acids when oxidized, but quinoa's nutrients hold up to boiling, simmering, and steaming.
Paired with all the essential minerals mentioned above, these compounds all contribute to a healthier heart.
6. CONTROL BLOOD SUGAR LEVELS
The high fiber content in quinoa helps to keep blood sugars stable through slower absorption into the bloodstream from the intestines. This effectively reduces the risk for developing type 2 diabetes.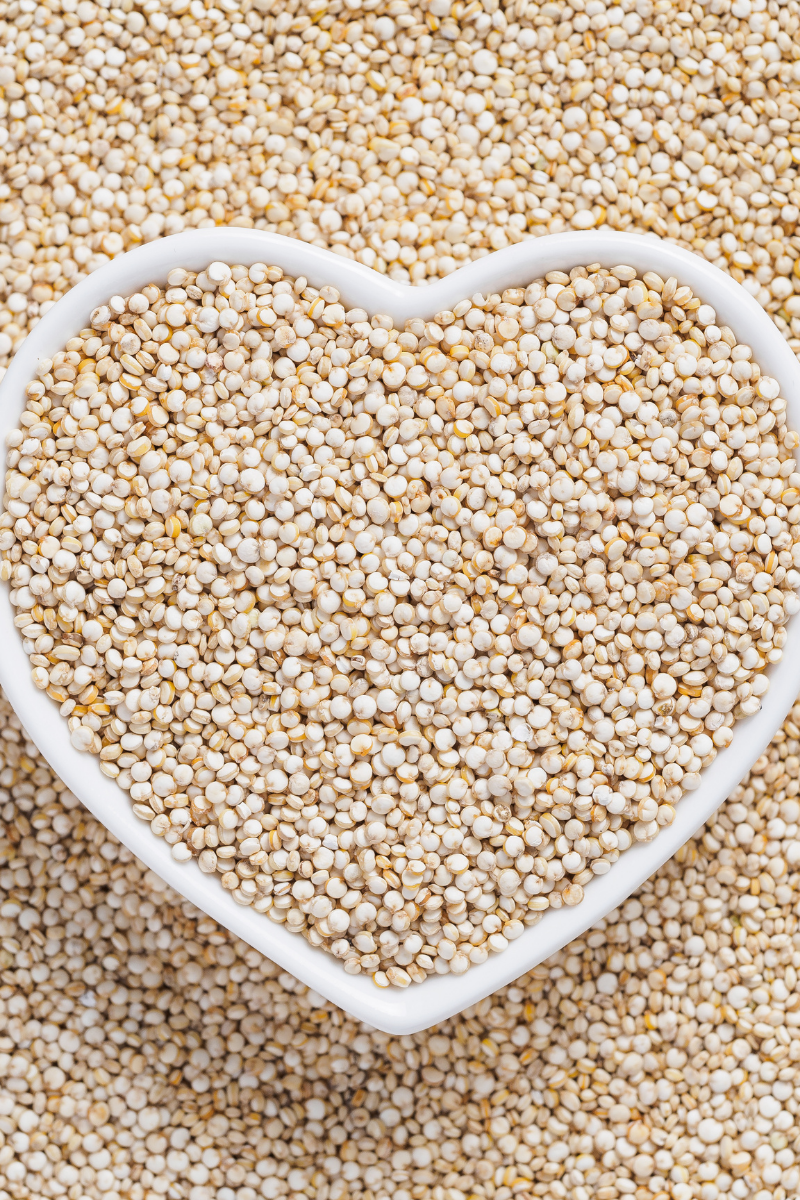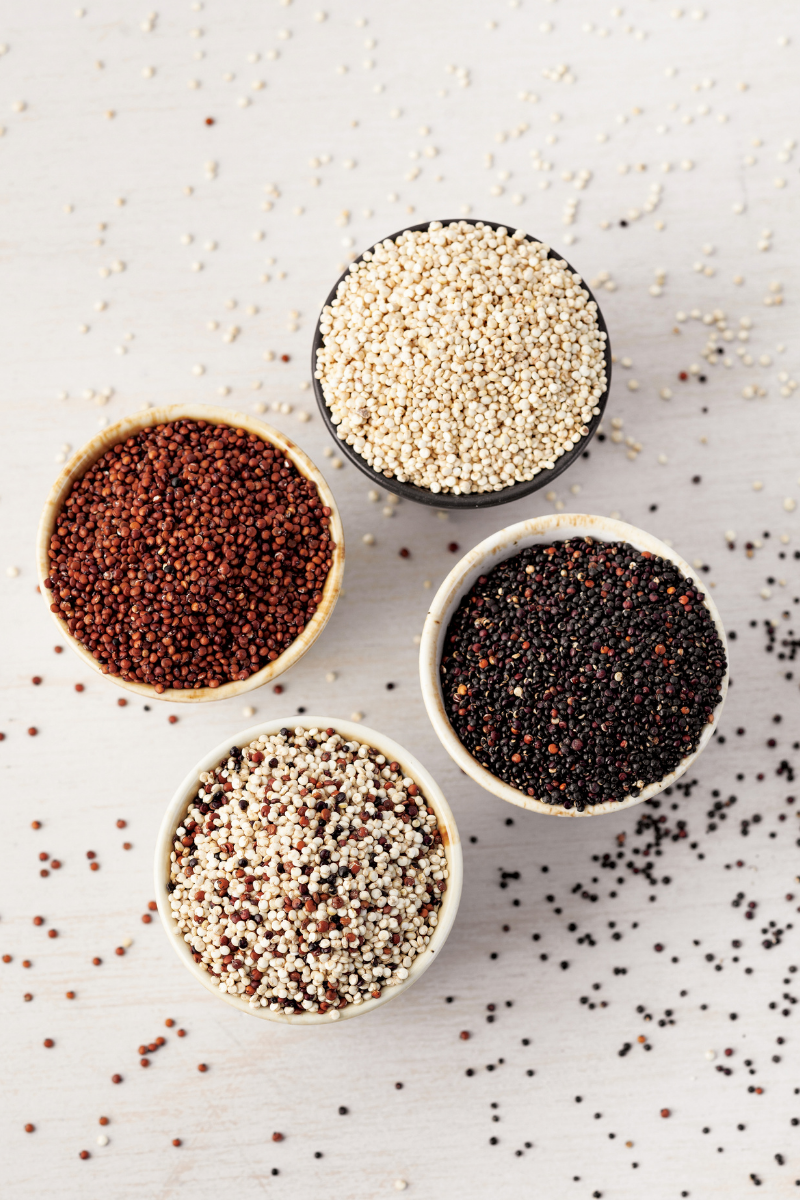 7. REDUCES INFLAMMATION
Plant compounds in quinoa such as saponins, betalains, polyphenols, quercetin, and kaempferol contain antioxidant properties. These antioxidants reduce inflammation and repair cell damage caused by oxidative stress.
Antioxidants fight harmful free radicals that cause chronic diseases like cancer, diabetes, cholesterol, and heart disease. And, of course, it helps to fight the dreaded "aging" ;-)



8. MAY HELP WITH WEIGHT-LOSS

The fiber and protein content in quinoa can promote a feeling of fullness, making you snack less in between meals.
Quinoa is also a low-glycemic-index carbohydrate. This means it takes the body longer to break down than high-GI foods and raises blood sugar levels more slowly than moderate- or high-GI foods.
Just be careful; at 222 calories per cup, it is still a calorie-dense food and needs to be enjoyed in the correct serving portion.
WAYS TO ENJOY QUINOA
.
Add to soups or chili for additional substance.
Enjoy for breakfast with yogurt or plant-based milk, berries, and nuts.
Mix 1/2 cup cooked quinoa with 1 tsp cinnamon, 1/2 tsp brown sugar, and chopped walnuts for a healthy sweet afternoon snack. Serve warm.
Make a health bowl: layer quinoa, plant-based protein such as chickpeas or tofu, and fresh veggies, and serve with your sauce of choice.
Serve a flavorful quinoa side dish - combine quinoa with vegan feta cheese, herbs, garlic, onion powder, and chopped tomatoes.
Add to your salads for extra fiber, keeping you fuller for longer.
FIND YOUR QUINOA FIX HERE
.
YOU MAY LIKE THESE BLOGS TOO!