Have you ever dreamed about buying a farm or piece of land to run a homestead? Or perhaps you just want to start with a small vegetable garden and a few chickens to keep yourself busy? Or, maybe you want to go all out and run a big income-producing farm?
If this sounds like you and you are ready to live more sustainably and self-sufficiently, away from the hustle and bustle, keep on reading!
In our previous blog, we shared 16 practical and easy ways to embrace simplicity and become more self-sufficient at home, no matter where you live. But, if you are ready to take it a step further and take homesteading more seriously, this one is for you!
We asked Jared Thurmon to share some thoughts and tips on starting a homestead. He and his wife, Annette, from Azure Farm, moved to the countryside a few years ago and are actively homesteading today!
So if you are ready to move to the countryside and become a "homesteader", he has some excellent advice for anyone starting out.
moving to the countryside
About 12 years ago, we knew we wanted to move from the city to the countryside one day. We wanted to live a simpler life, taking it slower and embracing what nature gives us.
It took us six to seven years to finally find the property we live on today. It took patience, but we knew what we wanted and wouldn't settle for anything less. We dubbed it Azure Farm due to the bright blue skies.
Setting up our perfect homestead was no quick fix. It took us six years to get settled on our farm and create the homestead we dreamed of. There was a lot of sweat and tears, but also laughter and joy.
When we searched for a property, there were three main things we were looking for. A property:
With a well.
That's secluded from people and private.
That only had a few trees, as we knew we would need the sun and space to grow our food and gardens.
We first planted fruit trees since these take years to grow, and then we planted our blueberry patch. Slowly but surely, we expanded our vegetable garden, starting with the basics such as tomatoes, cucumbers, lettuce, and radishes.
The first animals we got were alpacas. This probably wasn't the wisest decision, as alpacas are quite complicated animals, and we were newbies at farming! But nevertheless, we did it!
We went to see as many people as possible in the area to learn as much as possible about alpacas and farming. Next, we got chickens, and then two donkeys also came along. And gradually, our zoo expanded!
Below are our top tips for starting a homestead. These are just our personal experiences and what we have learned over the years. They are great for getting the ideas flowing, but we encourage you to dive deep into your research when venturing on this new journey.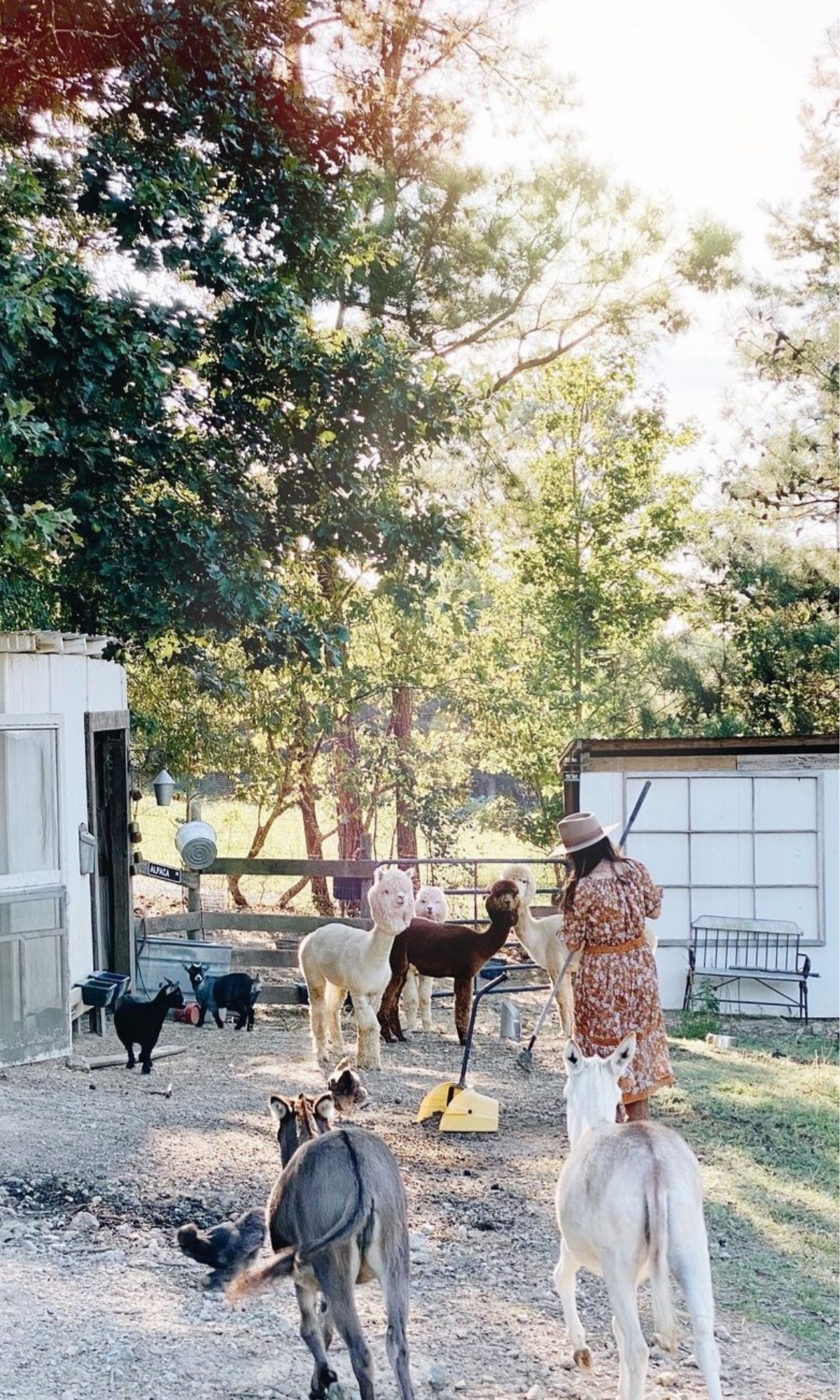 our top 10 tips when starting a homestead

1. Know your why
Our biggest tip would be to determine your reason or desire for starting a homestead or living in the countryside. Do you wish to live a simpler life, move away from the rush, be more self-sufficient, or simply connect with your family and surroundings? Understanding your motivations and desires will make all the work and effort worthwhile.
2. What's your end goal?
Determine your long-term goals for homesteading. Do you only wish to eat from your own garden? Do you want to raise animals? Want to live off the grid and be self-sustainable? Do you want to earn an income from your homestead? Determining your goals will help with all aspects, including initial planning stages, decision-making processes, and everyday operations or actions.
3. Be realistic with your dream
Remember to set realistic goals. What do you have the capacity for considering resources, time, and finances? Homesteading takes a lot of commitment and patience.
Don't put yourself under too much pressure and bite off more than you can chew. You want to enjoy the journey and ease into it. When you take on too much too soon, you may face failure, feel defeated, and give up on your dream.
4. Search for the perfect property
When searching for a property, take your time and be patient. The right property will eventually come along. And when you have finally found your dream property, take a minute to observe the land.
How much sun will your gardening areas have?
Are there weak spots for possible flooding?
What vegetables and animals will survive, adapt, and thrive in that area?
How are the pastures and grazing areas?
What's the quality of the soil?
Consider testing and getting a complete analysis of the area's soil, forage, pastures, and diseases. Your local council, vet, or experts in the area should be able to provide more information. Also, learn as much as possible about your climate.
The more research you do, the better!
5. Start small
The biggest misconception is that you have to start big or have a lot of land to be a "homesteader", which is absolutely not true.
You can start with a small garden patch or just a few chickens.
Ok, maybe in the city, chickens won't be the best idea ;-)
Don't overwhelm yourself. Focus all your energy on getting one or two things right, and as you get more experienced, you can expand.
If you are ready to move to a big property, we would say that 5 acres are perfect.
6. Have a budget and cost plan
Do an extensive budget and costing plan of all significant initial setup and running costs.
This includes your home, electricity, waterlines for the animals, shelter for animals, barns and storage areas, fencing, livestock and plants, feed, and so much more. Once again, research is your best friend!
7. Have shelter ready
Think about your shelter and barn space if you want to keep animals. They need a place to feel safe, sleep, breed, and be sheltered from severe weather conditions.
Having this in place before your animals arrive is vital for making the transition to a new environment smooth and less stressful.
8. Pasture and crop rotation are crucial
Learn how pasture and crop rotation work and plan how you will execute them.
Pasture rotation can prevent overgrazing of your pastures and allow the same piece of ground to be grazed several times during the growing season.
Crop rotation helps optimize soil nutrients and combat pest and weed invasions.
9. Get your fences in place
Fencing is another critical and expensive element. You'll want to ensure you have the correct fencing that will be strong enough to keep your animals in and predators out. Ensure your fencing won't hurt or cut your animals when they do try to make a run for it.
10. Learn from the locals
Learn as much as you can from other farmers in your area. Study, do research, and talk to experts and your local vet.
Make homesteading friends - exchange knowledge and goods. Get starts (young plants and animals) from neighbors or the local market to save on costs.
Don't be afraid to ask for help; it will foster community and be very much needed on your journey.
Lastly, enjoy the simple life
Be ready to accept and embrace a more simple life. Be willing to give up luxuries, Target, quick trips to the store, etc. But that's what makes this homesteading life so beautiful - having more with less!
Oh, and get ready to get some dirt under those nails!

Homesteading no matter where you live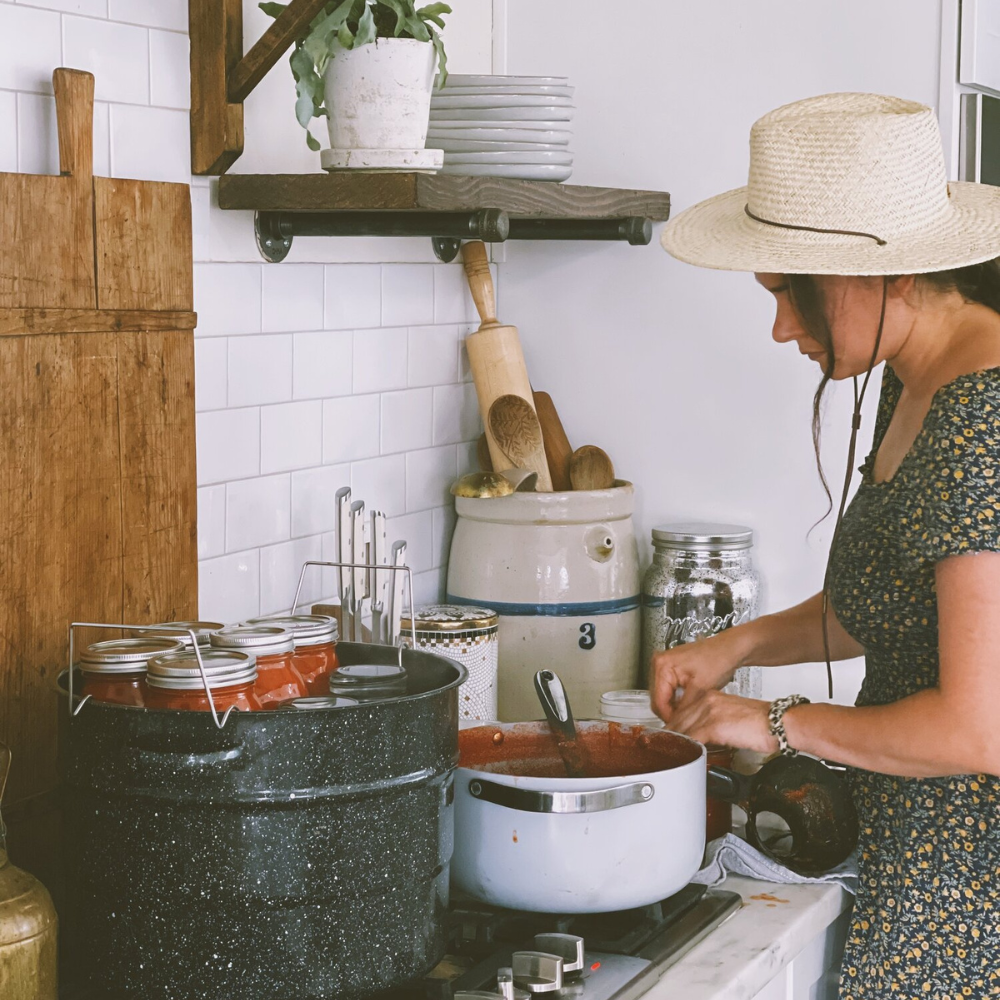 For us, homesteading is about slowing down to appreciate the smaller things in life and living a simple, sustainable, intentional life.
Homesteading is a way of life, no matter where you live.
When you remove the clutter, let nothing go to waste, live intentionally, slow down, and become more independent, you are a homesteader! No matter in which way or where you choose to do it. It can be as simple as growing herbs on a window sill or canning food!
Although some of the above tips are more applicable to someone starting on a more extensive property, we want to emphasize that you don't need tons of land and can do a lot on just an acre or even in the city.
I hope these tips can guide you when planning and starting this amazing new journey! Remember, dreams are just dreams without any action taken ;-)
If you are ready to embark on this journey and learn more, HomeGrown is just the platform you need.
HOMEGROWN COMMUNITY
There's nothing like the excitement of learning a new thing - how to garden, how to make delicious recipes from your garden, how to care for baby chicks.
But the truth is that without understanding the basics, these fun experiences can become a headache. Bugs eat your tomatoes before you do. Recipes don't taste like what you hoped. Those chicks get sick or worse, don't make it.
We have been creating and curating content from people just like you who have already lived and learned, and are excited to share with you the steps they took to find success so you don't have to repeat the same mistakes we have made.
From food to farm to family and so much more, we find ways to share tried and tested ideas in your own kitchen, garden, and home.
A growing library of over 100 videos
Watch and enjoy on any device
Connect with a community of lifelong learners
Access to on-demand workshops and step-by-step tutorials
Fun Instruction for Rookies or Rockstars
Curated courses & world-class instruction
Affordable subscriptions with no surprise extra costs
Special subscriber offers & personal support for your country living questions
HomeGrown is here to not just teach you what to do but how to do it too. Oh…and we have some fun along the way.
For a small fee of $5.99/month or $49 for the year, you have years of experience, trial and error, and knowledge right at your fingertips.
LEARN MORE ABOUT OUR HOMEGROWN COMMUNITY HERE