"VEGGIES MAKE YOU STRONG!"
SOUNDS FAMILIAR?
Since childhood, our parents have always told us the importance of eating our veggies.
"You need to eat your vegetables to grow."
"Eating carrots will give you good eyesight."
"Spinach will make you strong like Popeye!"
Well, by now, we know there is truth in these motivation and bribery methods - Veggies are indeed good for our health!
The Dietary Guidelines for Americans recommend 2½ cups of vegetables and two cups of fruit daily for overall health, which amounts to about nine servings per day. But often, this is hard to achieve! We get it!
This tasty and easy Garbanzo and Roasted Sweet Potato Salad is one surefire way to increase your vegetable intake and add tons of goodness!
→ Sweet potatoes are complex carbs, meaning they have a lower GI, keeping you fuller for longer.
→ The garbanzo beans (chickpeas) provide protein and added fiber.
→ And the arugula is full of antioxidants and beneficial vitamins and minerals.
It's the perfect healthy all-around meal!
GARBANZO AND ROASTED SWEET POTATO SALAD RECIPE
Ingredients
For The Salad:
2 medium sweet potatoes
1 can of organic garbanzo beans
5-10 oz of fresh arugula (or baby arugula)
1/4 cup roasted pepitas (pumpkin seeds)
1/4 cup golden raisins
Creamy avocado dressing
To Roast Garbanzos:
1 teaspoon garlic powder
1 teaspoon onion powder
1/4 teaspoon salt
Creamy Avocado Dressing:
Juice of 2 lemons
1/4 cup olive oil
1/4 cup of water (more if needed to make it more liquified)
1 tablespoon Balsamic Vinaigrette
2 tablespoon maple syrup
2 Avocados
1 teaspoon salt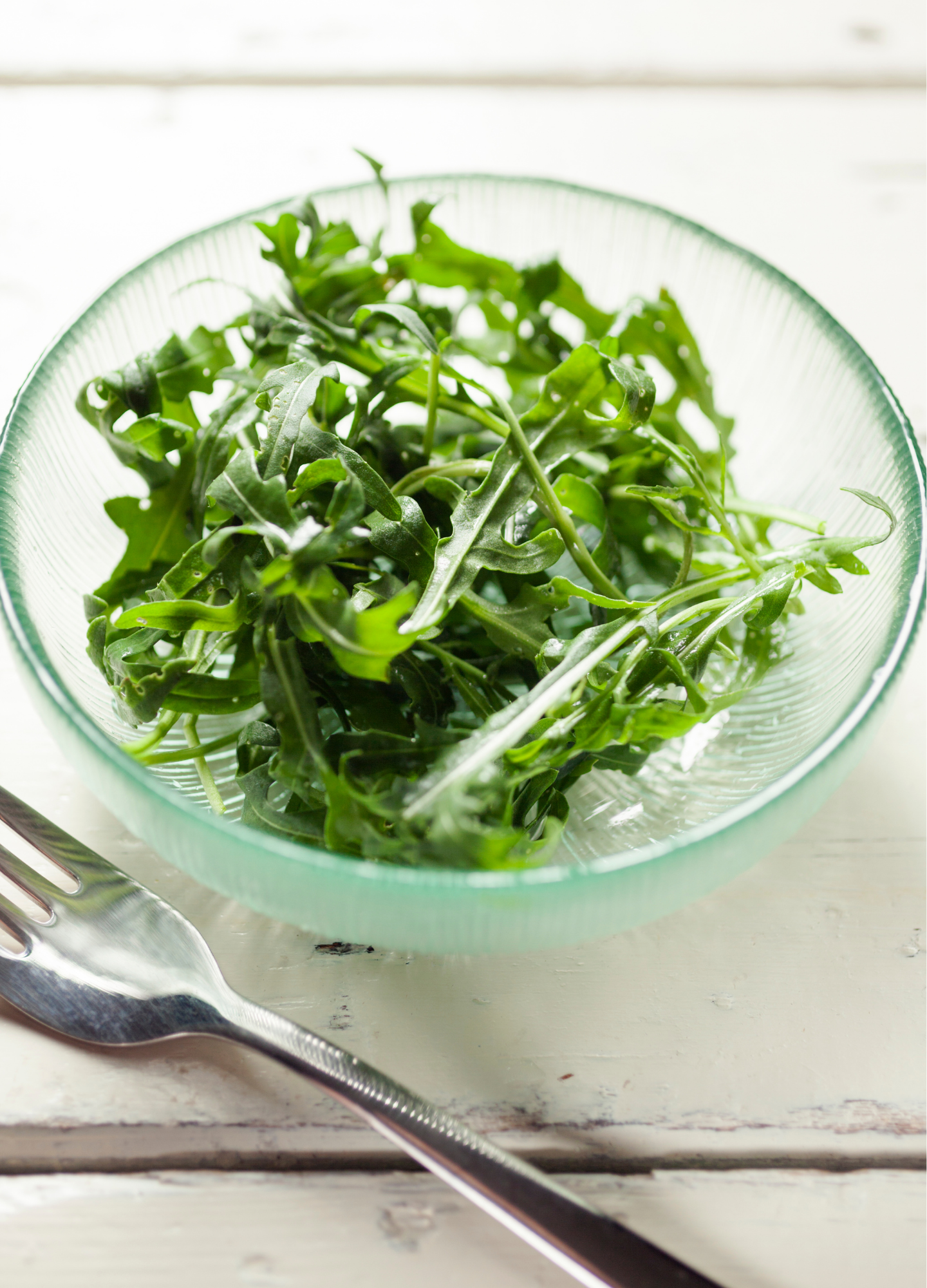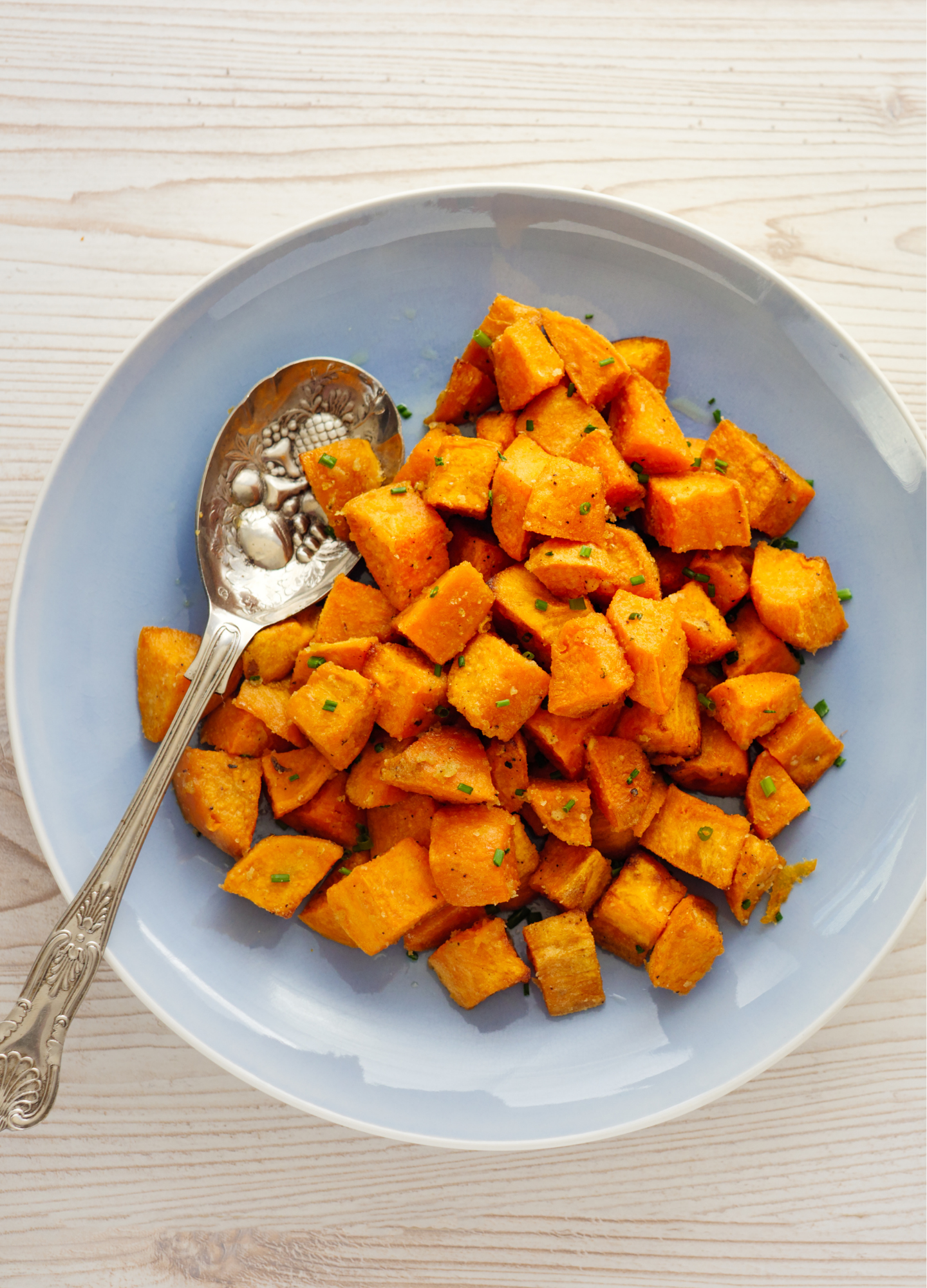 Directions
Creamy Avocado Dressing:
Add all the ingredients to a blender and blend until smooth. Let it rest in the fridge while you prepare the rest of the ingredients.
Constructing The Salad:
Cube the sweet potato, drizzle with oil and roast at 400 F for about 20-30 min.
Drain the garbanzo's well.
Add the garbanzos to a frying pan over medium/high heat and drizzle with olive oil.
Add the seasonings.
Roast on the stove until golden brown and a bit crispy.
Once the garbanzo and sweet potato are ready, let them cool down.
Add the arugula to a serving bowl and top with sweet potatoes, garbanzos, raisins, and pepitas.
Drizzle with dressing and serve.
Enjoy!!
WE THINK YOU'LL LIKE THESE RECIPES TOO