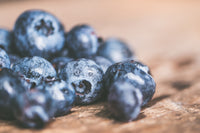 In the blog this week, we talked about good sources of protein. There are foods we can be intentional about adding to our diet, and what is more delicious to add than a smoothie? 

They are easy to make, nutrient-packed, and delicious to eat! 


We hope you enjoy!



Ingredients
½ cup frozen blueberries
1 giant handful of spinach 
1 banana 
1 tbsp chia seeds
1 tbsp hemp seeds
1-2 tbs peanut butter 
1 cup plant-based milk 
Directions

1.Combine all of the ingredients in a blender.
2. Blend and enjoy! 
Let us know what you think about this recipe in the comments below!