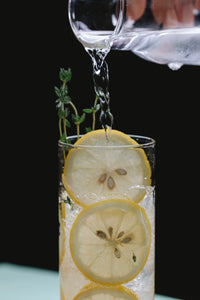 It's summer time! 

That means more time outside and in nature! 

Camping, swimming, visiting the beach, going to the park, kayaking down the river or on the lake, visiting parks, browsing cute shops. 

It all means more activity and much more time being in the sun. 
And guess what that means?

It means that we all need to make sure that we are drinking enough water and staying hydrated so we can fully enjoy all of the things we want to do! 
For some, drinking water by itself is not as enjoyable as drinking soda, juice, or sweet tea in the summer, but water is essential for a healthy body! 
I understand wanting some taste to what you're drinking other than water, and there is a simple solution to this.
If you prefer to have flavor in your drink, then these infused water recipes are for you!
By adding fresh fruit and ingredients, you can still stay hydrated with extra nutrients!
In addition to tasting good, infused water can help flush out toxins, boost your energy levels, and improve your immune system!
Try these 5 recipes this summer to stay your healthy and most hydrated self! 
Recipes
The best part of infused water is they are so easy to make! 
You may have to cut and wash some fruit, but after that you just add them to water with ice and enjoy! 
Each recipe you can add these ingredients to however much water you prefer based on how subtle or strong you would like the taste to be. 
 Rosemary Grapefruit
2 tsp rosemary
1 grapefruit
1.Boil water and steep the rosemary for 5-10 minutes.
2.Slice the grapefruit in half. Squeeze the juice out of half of the grapefruit. cut the remaining half into slices to add to the water.
3.When cooled down, add the juiced grapefruit and as much ice as you would like. 
4.Add the slices of grapefruit and enjoy! 
Lemon Cucumber
1.Thinly slice the cucumber
2.Slice the lemon 
3.Add to ice and water and serve! 
(if you would like to squeeze some lemon juice into the water this tastes great!) 
Strawberry Basil 
8-10 fresh basil leaves
16oz strawberries
1.Slice the strawberries 
2.Add basil and strawberries to water
3.Add ice and serve! 
Raspberry Mint
10-12 mint leaves
10oz raspberries 
1.Tear the mint leaves and remove the stems 
2.Add mint leaves and raspberries to water
3.Add ice and enjoy! 
I hope you enjoy these infused waters as much as I do! 

Comment your favorite infused waters in the comments below!