FEEL SUPER WITH SUPERFOOD POWDERS!
100% Real. Absolutely & irrefutably natural
It is no secret that it's often a challenge to maintain a healthy diet with optimal nutritional value.
Grocery shelves are stacked with processed foods loaded with hidden sugars, substitute sugars, fillers, gums, artificial flavors, and petroleum-based food dyes.
Fresh produce harvested weeks before it hits the shelves is the norm, affecting its nutritional profile, taste, and ripeness.
Not to mention, healthy eating can become costly when half of your healthy foods get tossed in the trash before you get to enjoy them!
So, the quest for genuine, wholesome, nutritional eating can seem like a daunting, never-ending task.
However, we've got a solution that brings you back to the basics without sacrificing convenience—SUPERFOOD POWDERS.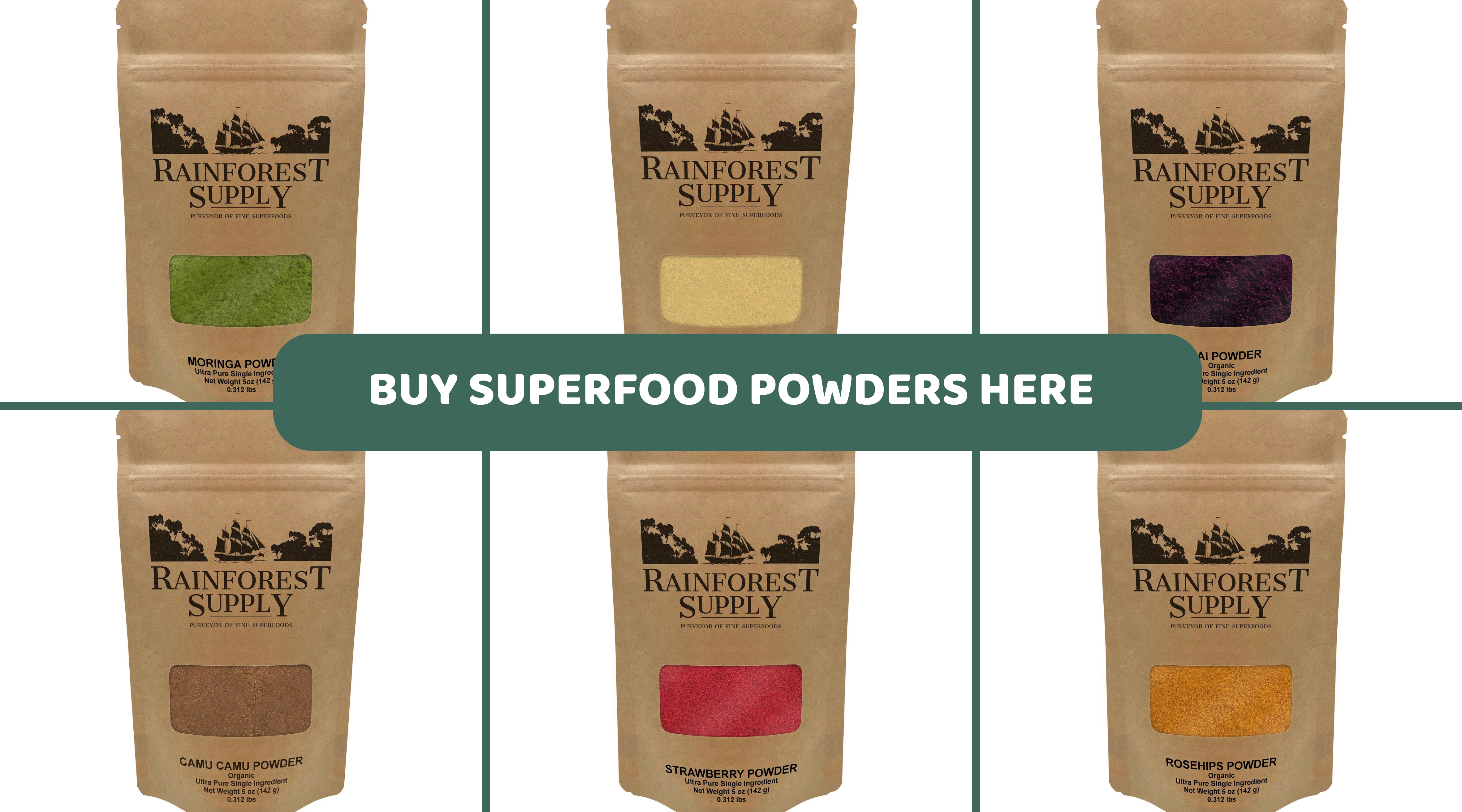 THE MAGIC CONVENIENCE OF SUPERFOOD POWDERS
No matter where you are, relying solely on the fresh produce section of your local grocery store may limit your access to various healthy food sources, especially exotic superfoods.
Additionally, the demands of a busy lifestyle make it challenging for many people to cook from scratch for every meal. And we can totally relate!
This is where the magic of powdered superfoods comes into play, offering a time-efficient and natural solution.
Superfood powders empower you to take control of your nutrition, allowing you to effortlessly enhance your smoothies, homemade salad dressings, lattes, or morning oatmeal.
Imagine having a pantry stocked with an array of exotic superfood powders with the nutritional punch of fresh fruits and vegetables that won't spoil within a week.
These powders will give your body all the vitamins and minerals you need, which are often challenging to get with a typical Western diet.
It's a simple, convenient, and nutritious way to enrich your diet, catering to health enthusiasts, curious foodies, exercise junkies, bakers, blenders, and culinary explorers alike.
Oh, and don't think the convenience of these powders means compromising on quality; these superpowders are made from the purest natural ingredients, devoid of nasty additives, and carefully curated with your health in mind.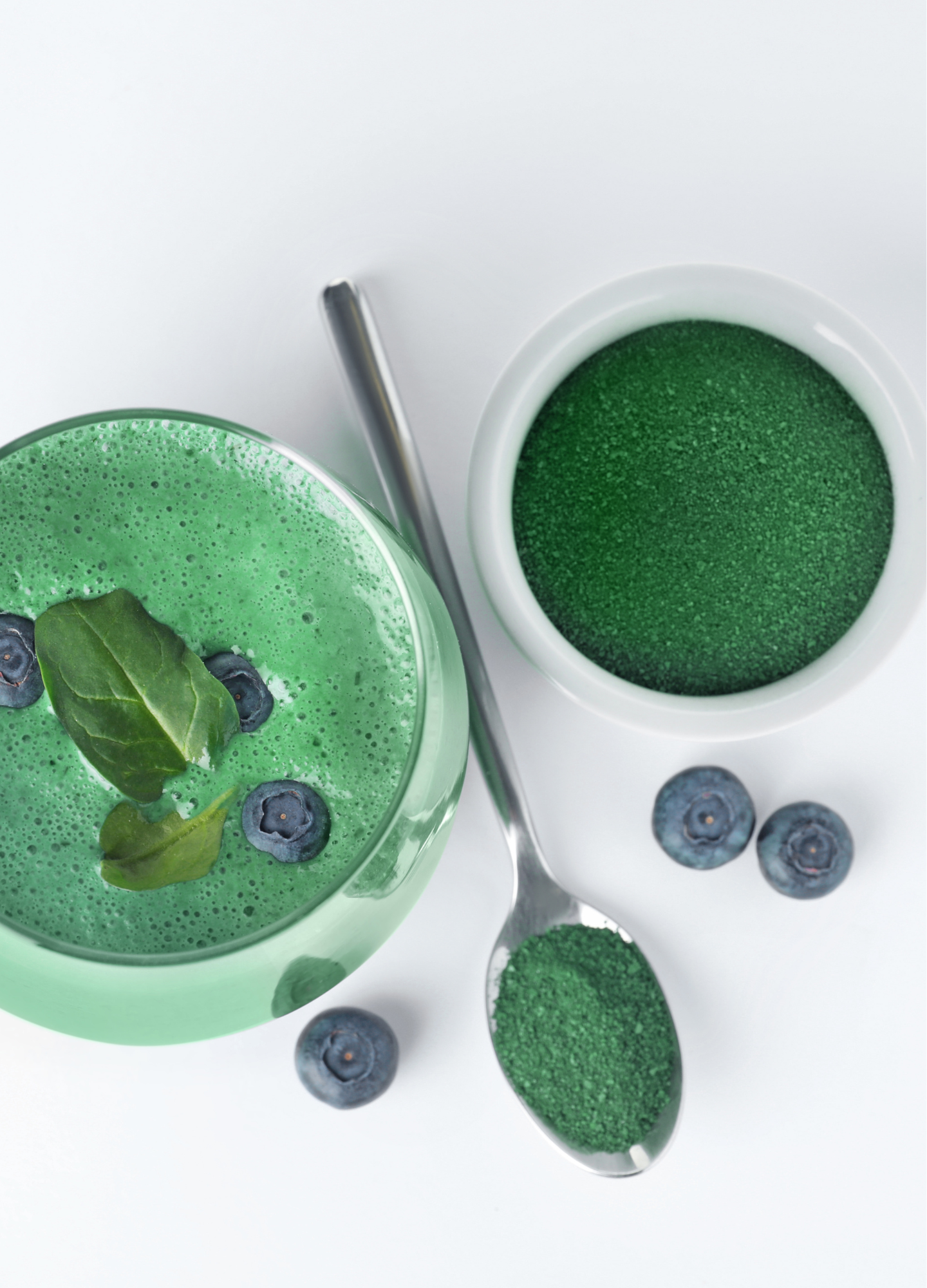 WHAT IS CONSIDERED A SUPERFOOD?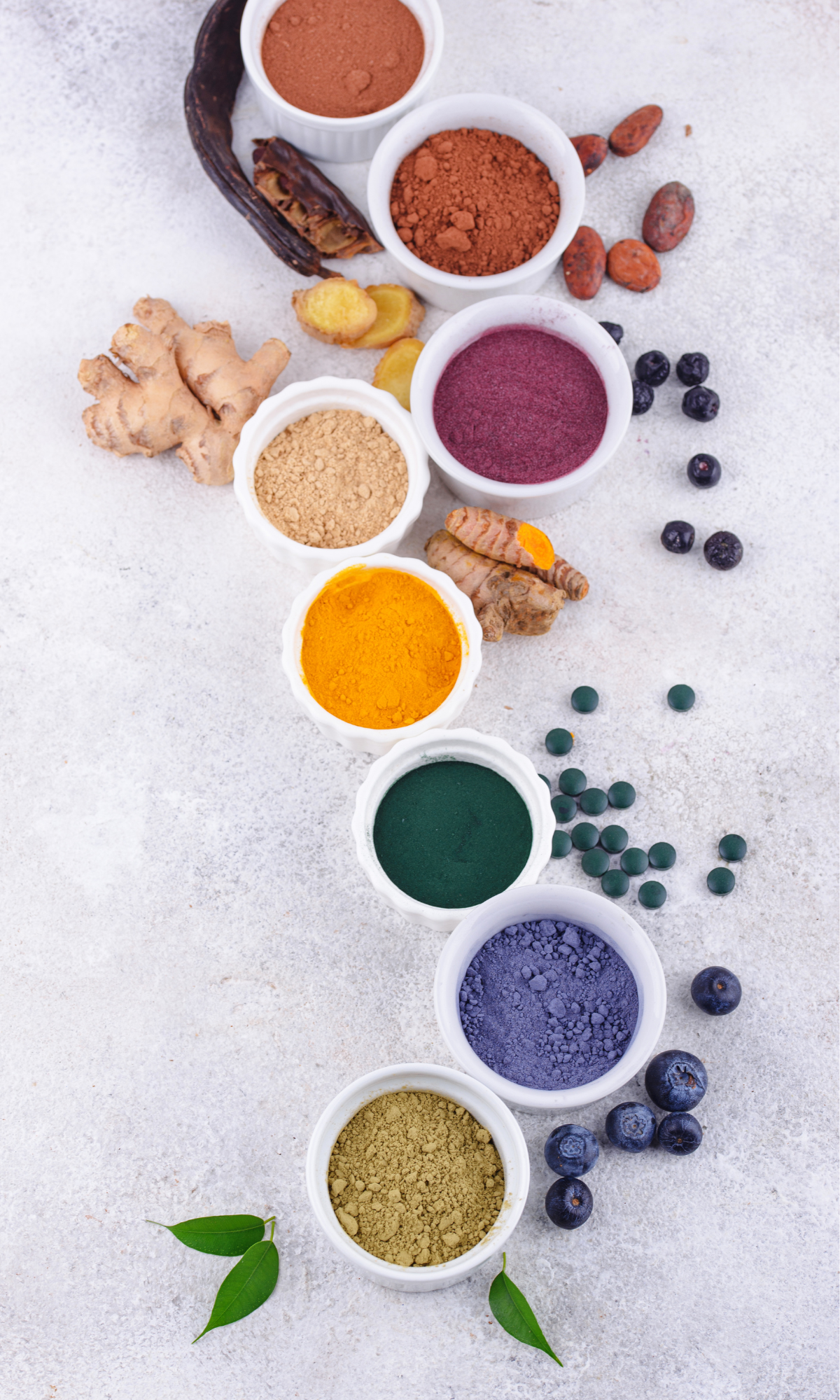 The term "superfood" is not a scientific classification but rather a marketing term used to describe foods that are nutrient-dense and believed to offer significant health benefits.
These foods are typically rich in vitamins, minerals, antioxidants, and other beneficial compounds. Superfoods are often associated with the prevention of chronic diseases and the promotion of overall health and well-being. Sounds great! Give us all the superfoods, please!
While there are no official or standardized criteria for what qualifies as a superfood, many foods commonly referred to as such share certain characteristics. These may include:
High Nutrient Density: Superfoods are packed with a high concentration of vitamins, minerals, antioxidants, and other essential nutrients relative to their calorie content.
Rich in Antioxidants: Antioxidants help neutralize free radicals in the body, potentially reducing the risk of chronic diseases and supporting overall health. Berries, dark leafy greens, and certain fruits are often praised for their antioxidant content.
Omega-3 Fatty Acids: Foods like fatty fish (e.g., salmon), chia seeds, and flaxseeds, which are rich in omega-3 fatty acids, are often considered superfoods due to their potential heart health benefits.
Fiber: Foods high in dietary fiber, such as quinoa, kale, and berries, are often labeled as superfoods for their digestive health benefits and ability to promote satiety.
Adaptogens: Some superfoods, like certain mushrooms (e.g., reishi, chaga) and herbs (e.g., ashwagandha, maca), are classified as adaptogens, believed to help the body adapt to stress and promote balance.
Plant Compounds: Superfoods often contain bioactive compounds, such as phytochemicals and polyphenols, which have been studied for their potential health-promoting properties.
TRY THESE 10 SUPERFOOD POWDERS!
Organic Acai Powder
Packed with antioxidants, this Brazilian berry powder adds a delightful berry flavor to your creations while supporting your immune system.
Rich in nutrients, high-quality proteins, and carbs, Acai is a steady and healthy energy source.
It is believed to have more antioxidants than raspberries, blackberries, cranberries, strawberries, or blueberries. These antioxidants may protect cells from damage.
It contains minerals including chromium, zinc, iron, copper, manganese, magnesium, potassium, phosphorus, and Omega-3s, which may help reduce swelling, support the immune and digestive systems, and lower blood sugar levels.
Organic Lucuma Powder
Hailing from Peru, lucuma is a fruit acting as a natural sweetener with a hint of butterscotch and maple, offering a healthy alternative to refined sugars.
It comprises almost 30% fiber and has an extremely low glycemic value, making it a great sweetener alternative.
It is rich in minerals and vitamins like iron that help carry oxygen in the blood, as well as potassium, calcium, magnesium, zinc, beta-carotene, fiber, and vitamin C.
Lucuma can also be used in topical applications for wounds, abrasions, and skin inflammation.
BUY ORGANIC LUCUMA POWDER HERE
Organic Camu Camu Powder
This Amazonian superfood is a vitamin C powerhouse, contributing to skin health and immune function. If you like lemons, limes, and cherries, you'll love the tart and sour flavor of Camu Camu.
Camu Camu is known for its antioxidant and anti-inflammatory properties.
Contain magnesium, calcium, zinc, copper, potassium, and sodium.
It's also rich in amino acids such as serine, leucine, valine, and carotenoids.
May support collagen formation and good functioning of blood vessels, bones, and skin.
BUY ORGANIC CAMU CAMU POWDER HERE
Organic Rosehips Powder
Rosehips powder is made from the fruit of the rose plant. Rosehips are sweet and tangy, making it a great addition to teas, yogurts, and jellies.
Bursting with vitamin C and other antioxidants, rosehip may support the immune system and collagen formation, increase joint mobility by reducing inflammation, and reduce arthritis symptoms.
Rosehips also contain vitamins E & B, carotenoids, flavonoids, and polyphenols.
It can help build stronger bones, manage diabetes, improve circulation, and act as a mild diuretic.


Black Carrot Powder
A vibrant addition to your recipes, with a unique and slightly sweet taste with earthy undertones, offering a deeper and sometimes slightly tangier profile than orange carrots.
Black carrots contain anthocyanins, which are flavonoids that have antioxidant properties said to reduce gout symptoms and inhibit LDL cholesterol.
The anthocyanins may also have cardio-protective effects, help lower blood pressure, reduce inflammation, and improve overall cardiovascular health.
The beta-carotene content in black carrots, which gives them their deep purple color, is beneficial for eye health.
The dietary fiber in black carrot powder can contribute to a healthy digestive system and a feeling of fullness.
Maca Powder
Maca is a cruciferous vegetable, related to broccoli, cabbage, and kale. This nutty, butterscotch-like powder pairs well with many sweeter flavors.
Known for its adaptogenic properties, maca powder enhances energy levels, stamina, and hormonal balance.
High in copper, manganese, vitamin B6, vitamin C, iron, potassium, and amino acids.
It has been observed to improve mood, increase fertility, and regulate blood pressure.
It may also be used topically to reduce breakouts, prevent sun damage, and increase collagen production.
Moringa Powder
Moringa powder is made from the moringa tree. It has been said that moringa has more vitamin A than carrots, more calcium than milk, more iron than spinach, and more potassium than bananas.
Moringa is particularly high in vitamin C, vitamin A, calcium, potassium, and iron.
Rich in antioxidants, including quercetin, chlorogenic acid, and beta-carotene, that neutralize free radicals in the body.
Some studies suggest that moringa has anti-inflammatory properties.
The plant compounds in moringa, such as beta-sitosterol, may contribute to a cholesterol-lowering effect.
Moringa has been traditionally used for digestive purposes. It contains fiber that can support a healthy digestive system and help alleviate constipation.
BANANA, MANGO & STRAWBERRY POWDER
Make your smoothies extra delicious and fruity with these fruit powders. You'll add natural sweetness, essential minerals, vitamins, and antioxidants.
Banana is an excellent source of potassium and essential minerals for maintaining normal blood pressure and heart function.
Mangoes are packed with nutrients like vitamin C, copper, folate, and vitamins A, B6, E and K, which can help support your immune system.
The polyphenols in strawberry fruit powder are good for your brain, heart, and digestive health. Strawberry powder also contains flavonoids and enzymes that might reduce inflammation.
SHOP SUPERFOOD POWDERS HERE
.