have you ever seen such an amazing thing??
Gluten-free granola that is organic, plant-based, and full of adaptogens and superfoods! Yup, this is what you will get with our new organic, gluten-free granola - the Haven Gourmet Range.
Oh, and did we mention it comes in all kinds of extravagant, mouth-watering flavors?
Cacao Mushroom, Ashwagandha Maca, Basil Cranberry, Strawberry Rose, and Lavender Blueberry.
Don't know about you, but as we write this, we can just taste the exotic flavors and are drooling at the mere thought! This is what granola and breakfast should be about - an explosion of flavors in your mouth!
Each batch of Haven Gourmet Granola is slow-baked in small batches for optimal nutrient retention, better absorption of minerals, and easier digestion.
Expect top-tier gluten-free granola cereal with quality ingredients packed in a delicious, naturally sweetened breakfast experience.
A LOOK AT OUR HAVEN ORGANIC, GLUTEN-FREE GRANOLA RANGE
Ashwagandha Maca
The name may sound foreign, but the benefits of these two super ingredients, ashwagandha, and maca, are great!
Ashwagandha is a shrub that grows naturally in Asia and Africa. It contains beneficial properties that might lower blood pressure, reduce swelling, and improve the immune system.
Ashwagandha has been used as an adaptogen for centuries to treat many stress-related conditions. Some of these conditions include insomnia, anxiety, and aging.
Maca is a root vegetable used medicinally for many years for its healing properties to treat many ailments, including anemia, fatigue, stress, menopause, and menstrual problems.
It contains high levels of iron and iodine to promote healthy cells, potassium to help digestion, and other crucial nutrients such as calcium, amino acids, vitamins, and minerals.
Ingredients:
Oats*, Coconut Sugar*, Coconut oil*, Coconut*, Walnuts*, Honey*, Pecans*, Cashews*, Almonds*, Maple Syrup*, Sacha Inchi*, Maca Root Powder*, Ashwagandha Root Powder*, Sea Salt, Vanilla Bean*
*= Organic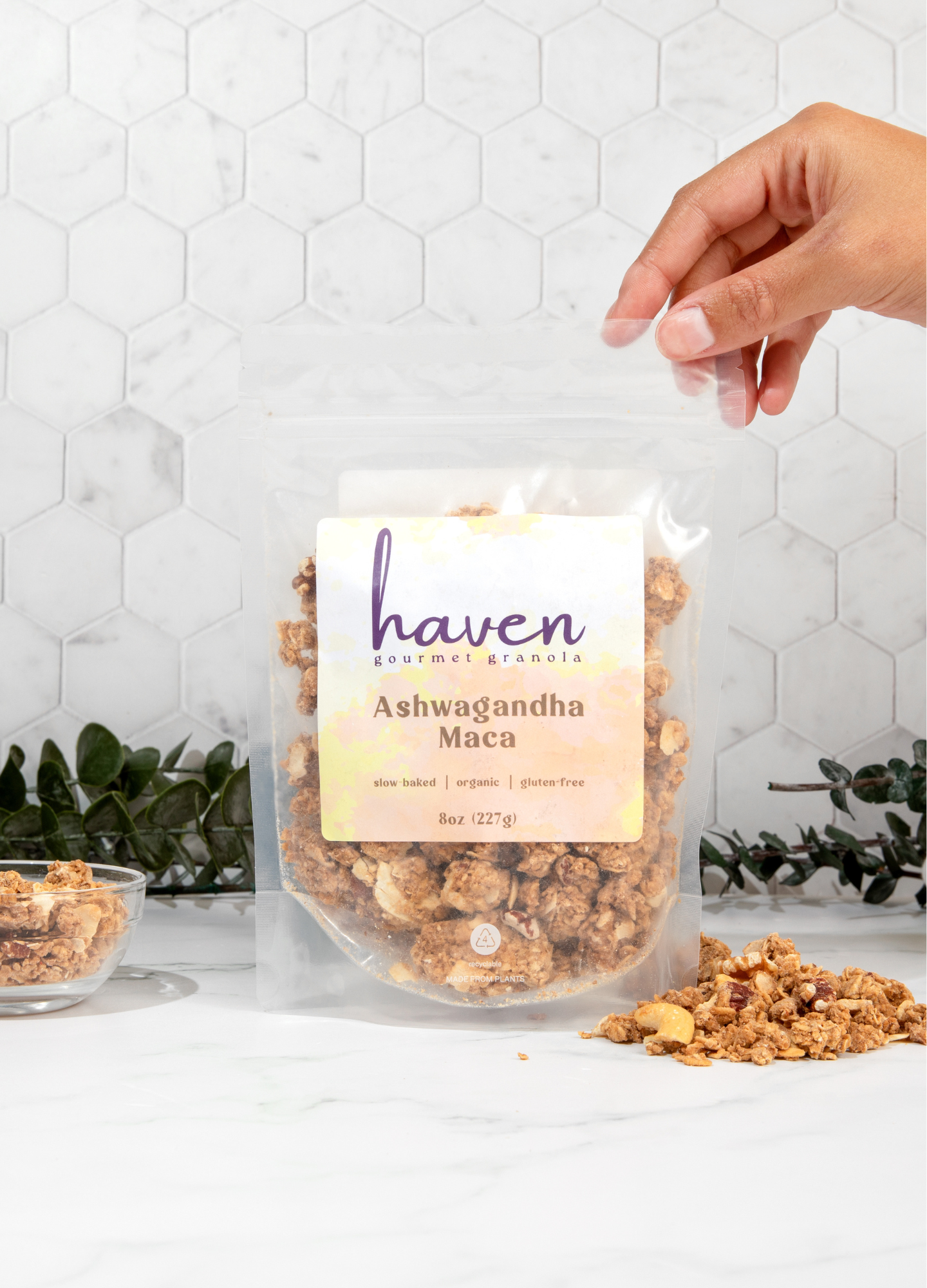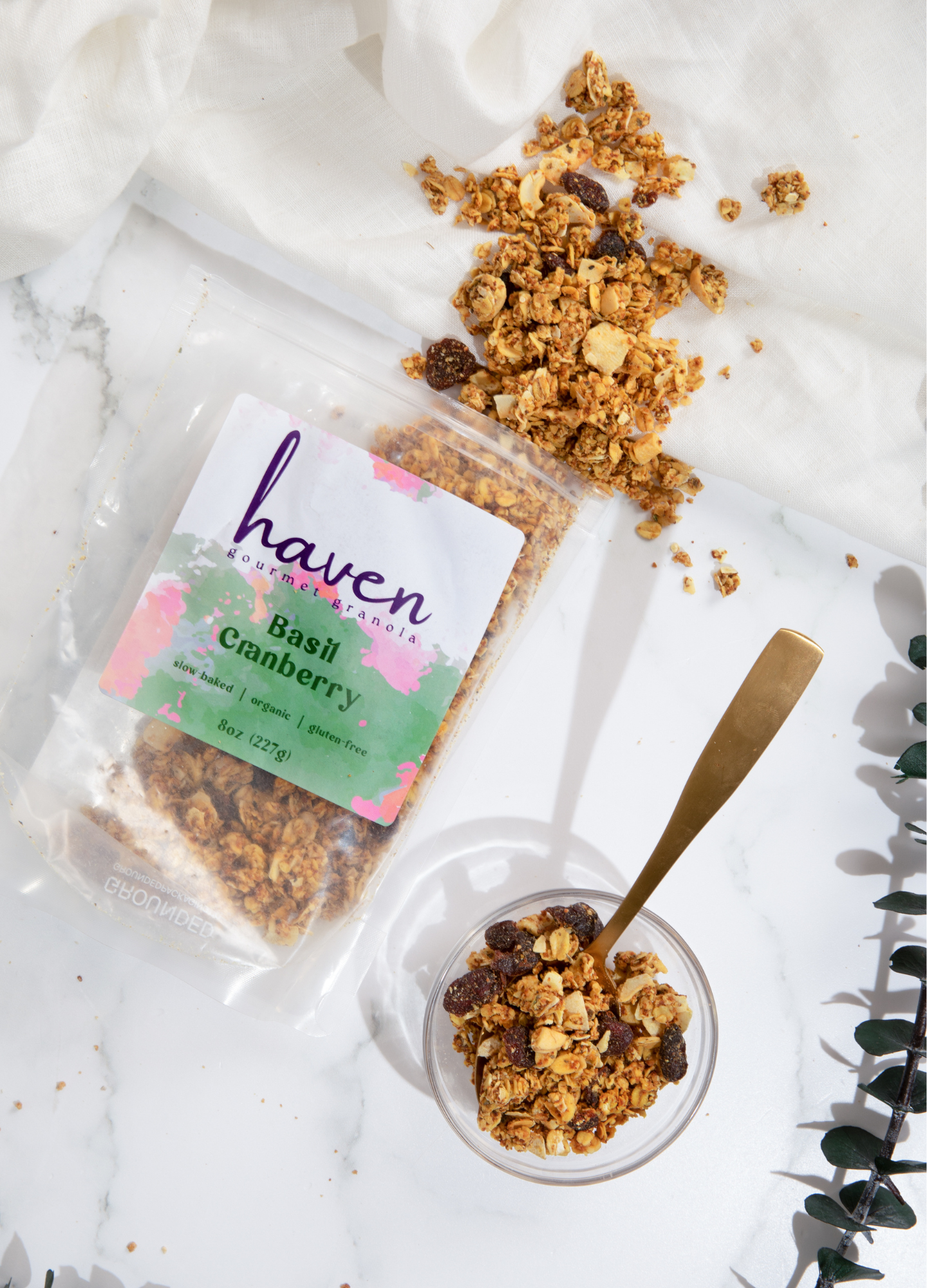 BASIL CRANBERRY
Surprise your taste buds with an aroma of citrus, tartness, and spice with this basil-cranberry granola mix. All while ingesting superfoods like turmeric and hemp seeds that help reduce inflammation and provide a wholesome source of protein.
Hemp seeds are a great source of omega-3 and omega-6 essential fatty acids, which support healthy cholesterol levels and the immune system. It's also an excellent plant-based protein source that contains all nine essential amino acids.
Dried cranberries contain many beneficial properties, including antioxidants and vitamins. Cranberries may assist with weight loss, urinary tract infection (UTI), and reducing the risk of heart disease due to polyphenols.
Turmeric contains curcumin which is a potent antioxidant with strong anti-inflammatory effects.
Ingredients:
Oats*, Honey*, Date Sugar*, Coconut Oil*, Dried Cranberries* (Apple Juice Concentrate*, Sunflower oil*), Coconut*, Cashews*, Lemon Juice*, Hemp Seeds*, Lemon Peel*, Basil*, Turmeric*, Sea Salt
*=Organic
CACAO MUSHROOM
Another exotic gluten-free granola cereal! The proprietary mushroom blend and cacao provide adaptogens that help with mental focus, lower stress levels, and boost immunity.
Mushrooms are loaded with good-for-you vitamins, minerals, antioxidants, fiber, and protein. They are excellent sources of Vitamin D, selenium, copper, magnesium, zinc, and phosphorus.
All these are crucial for our immunity, bone health, growth, and the ability to fight chronic health conditions such as heart disease, diabetes, and cancer.
Ingredients:
Oats*, Coconut Oil*, Coconut*, Date Sugar*, Honey*, Almonds*, Maple Syrup*, Cocoa*, Cacao Nibs*, Mushroom Blend* (Chaga, Reishi, Shiitake, Maitake, Turkey Tail, Lion's Mane, Wood Ear, Mesima, Oyster, Cordyceps), Sea Salt
*=Organic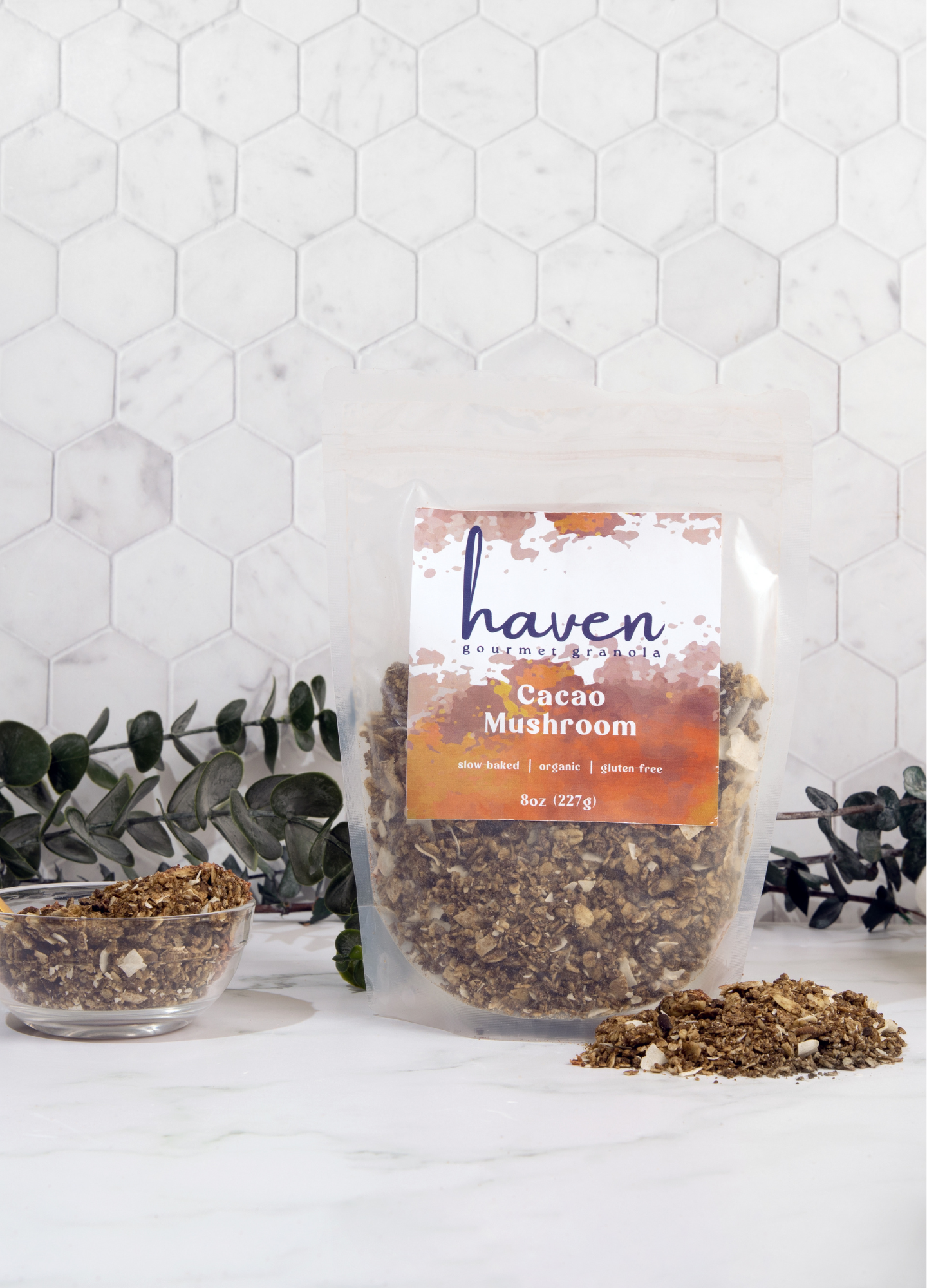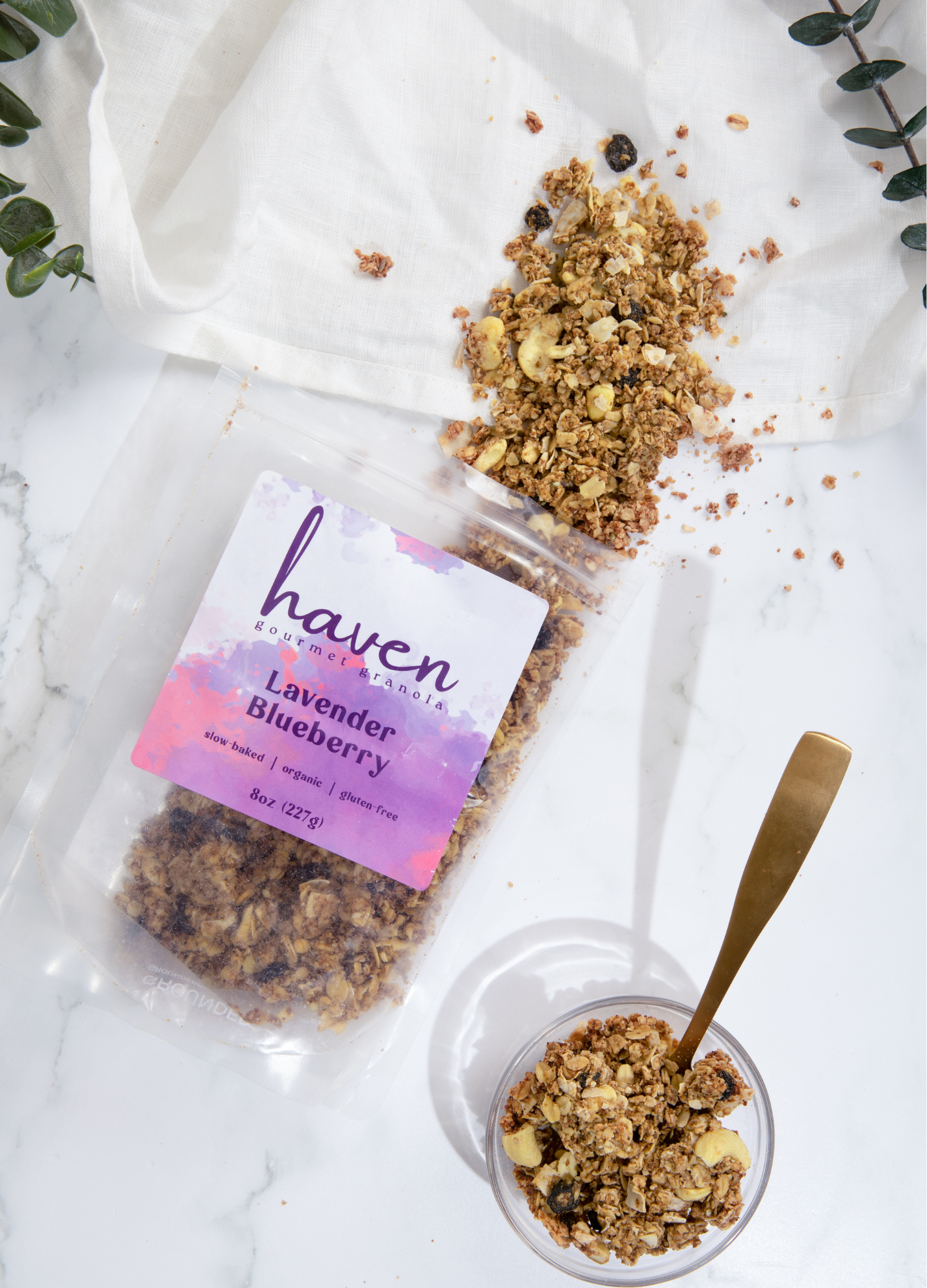 LAVENDER BLUEBERRY
Take your tastebuds on a journey to the lavender fields of France! Enjoy the calm boost of energy that the combination of lavender, blueberries, and hemp seeds provides in this lavender-blueberry granola mix. With two superfood ingredients, sachi inchi and blueberry, it will be a healthy journey too!
Sacha inchi is a plant native to parts of South America and the Caribbean that produces a fruit cultivated for its large, edible seeds.
These magic seeds are rich in protein, fiber, and heart-healthy unsaturated fats. They also contain vital micronutrients, such as magnesium, zinc, phosphorus, potassium, and calcium.
Sachi Ichi contains phenolic compounds and antioxidants that fight inflammation and support the body against chronic diseases.
Blueberries and blueberry powder contain flavonoids called anthocyanin, which offer many health benefits and powerful antioxidants.
Blueberries also contain calcium, magnesium, manganese, zinc, iron, phosphorous, and vitamin K. Some of its benefits include helping with heart health, blood pressure, diabetes, bone strength, skin health, and mental health.
Ingredients:
Oats*, Dates*, Blueberries* (Apple Juice Concentrate*, Sunflower Oil*), Coconut Oil*, Honey*, Coconut*, Cashews*, Lemon Juice*, Blueberry Powder*, Hemp Seeds*, Sacha Inchi*, Lavender*, Sea Salt
*=Organic
STRAWBERRY ROSE
Ok, ok, if we HAVE to pick a favorite, strawberry rose might be the winner! Don't tell the others!
The perfect combination of rose and strawberries will elevate your morning breakfast to a luxurious experience.
Can you imagine the lovely scent every time you open the bag?? Devine!
Strawberries are fat-free, cholesterol-free, and packed with vitamins, fiber, manganese, potassium, and vitamin c. They also have exceptionally high levels of antioxidants known as polyphenols that fight inflammation and reduce free radicals.
Did you know: You can eat rose petals! Rose petals have an aromatic, floral, and slightly sweet flavor (which gives this mix its exceptional flavor). Eat them raw, in fruit or green salads, or dried in granola mixes. Fresh rose petals can also be muddled and added to a liquid to create rose-infused beverages, jams, and jellies.
This mix does not contain fresh rose petals, but just an interesting FYI ;-)
Ingredients:
Oats*, Honey*, Date Sugar*, Coconut oil*, Cashews*, Almonds*, Coconut*, Lemon*, Strawberries*, Rose Petals*, Sea Salt *=Organic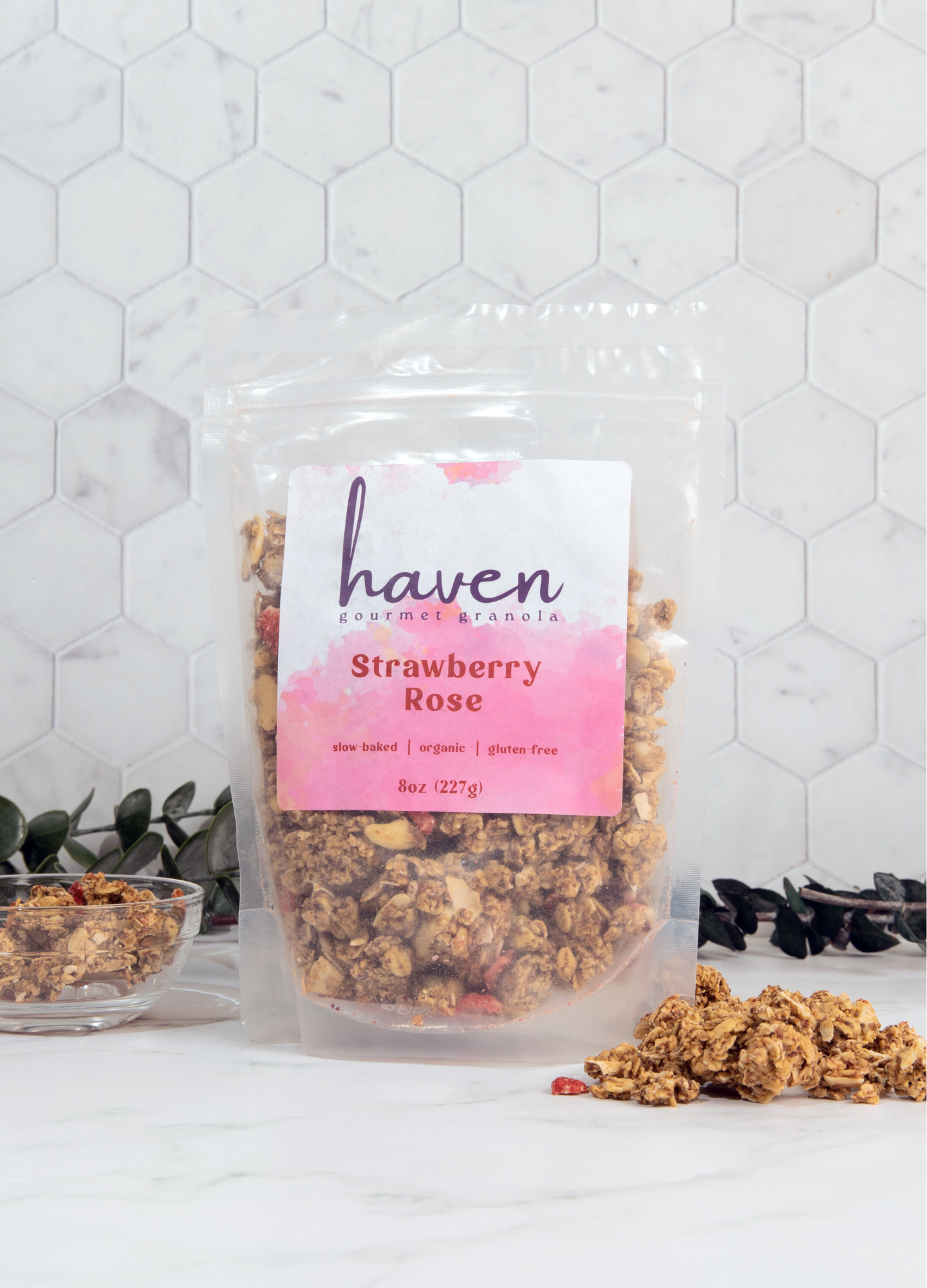 SHOP THE HAVEN GLUTEN-FREE GRANOLA RANGE HERE
.
WE THINK YOU'LL LIKE THESE READS TOO