SPICE UP THIS FALL
HEALTHIER RECIPES WITHOUT COMPROMISING YOUR FAVORITE TASTE!
As the leaves start to change colors and a crisp chill fills the air, there's one thing that's sure to put a smile on the faces of many: pumpkin spice season. From lattes to muffins, this iconic flavor combination has become synonymous with autumn.
However, many traditional pumpkin spice treats contain excess sugar and unhealthy ingredients. Not what we're after, right?!
The good news is that you can still indulge in the season's flavors while making healthier choices.
Find below 10 delicious and nutritious pumpkin spice recipes with your favorite fall flavors that will satisfy your cravings without compromising your health.
10 healthy pumpkin spice recipes
1. Pumpkin Spice Smoothie Bowl
Start your day with a pumpkin spice smoothie bowl that's both satisfying and packed with nutrients.
Ingredients:
Blend together a frozen banana, canned pumpkin puree, almond milk, pumpkin spice, and a scoop of your favorite protein powder. Blend until your desired consistency (ideally, not too runny; you can add extra ice if needed).
Add to a bowl and top it with chopped nuts, seeds, and a drizzle of pure maple syrup for added crunch and natural sweetness.
2. Baked Pumpkin Oatmeal Cups
Swap out sugary pastries for baked pumpkin oatmeal cups that you can enjoy as breakfast or a wholesome snack.
Ingredients (for 12 cups):
Preheat your oven to 350°F. Mix oats, pumpkin puree, almond milk, and honey or agave. Portion the mixture into lined or sprayed muffin tins or ramekins and bake for 25–30 minutes, or until golden brown and tops are set.
These portable cups are a great way to satisfy your pumpkin spice cravings on the go.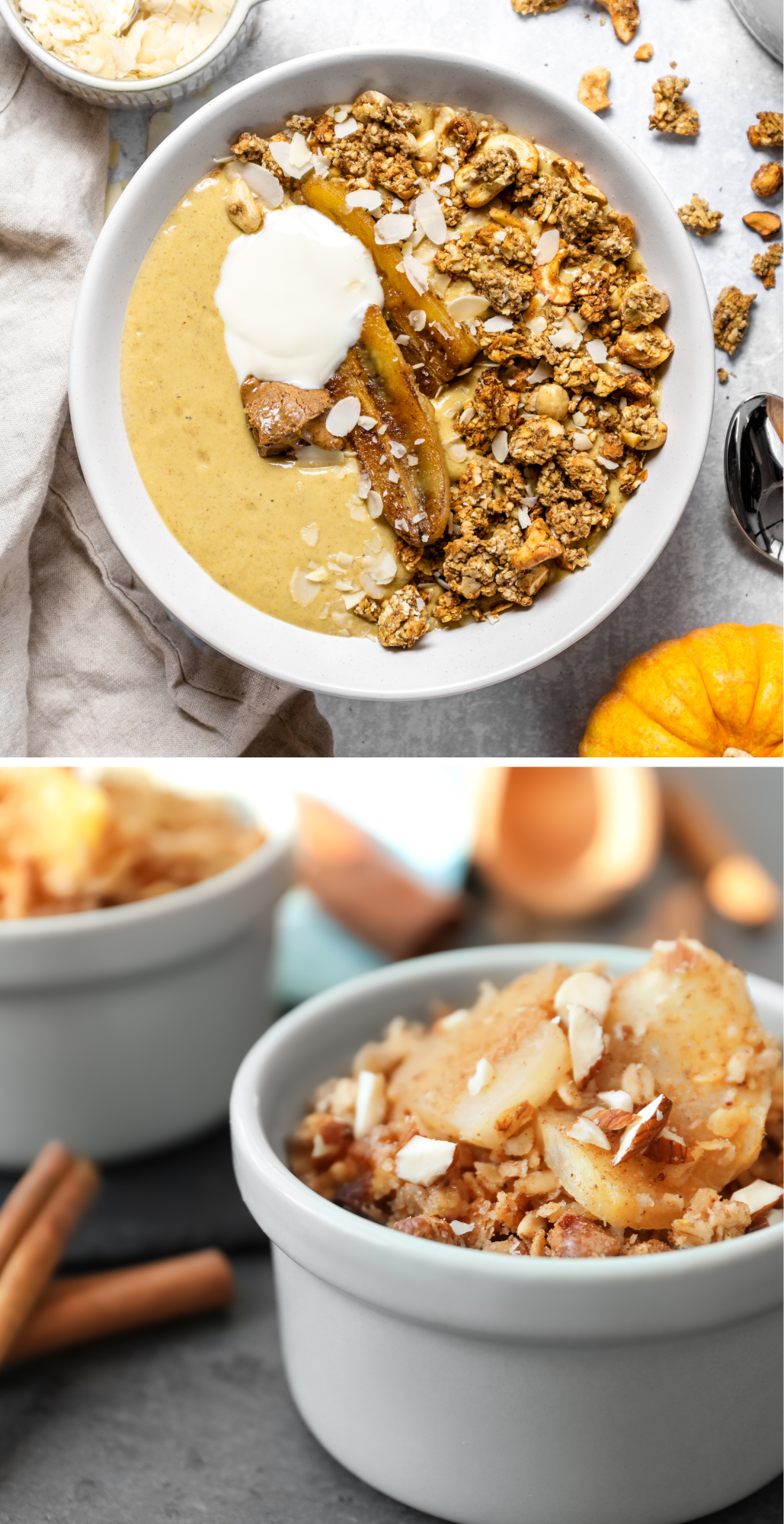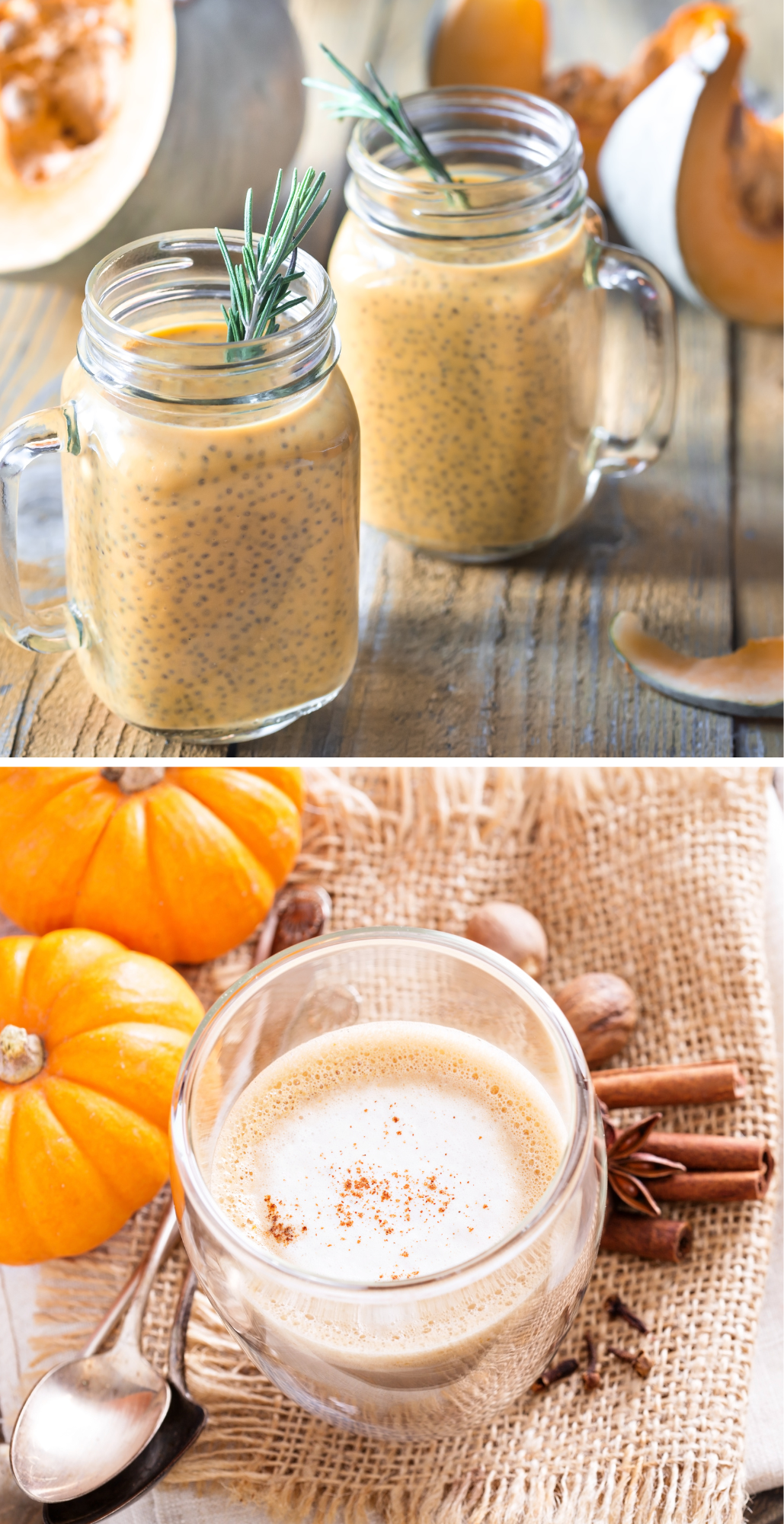 3. Pumpkin Spice Chia Pudding
Chia pudding is not only a delicious "dessert" but also incredibly easy to make.
Ingredients:
Combine chia seeds, pumpkin puree, almond milk, and a dash of pumpkin spice in a jar. Stir well and let it sit in the fridge overnight. In the morning, you'll have a creamy and nutrient-packed pudding perfect for breakfast or a guilt-free dessert. You can top the chia pudding with nuts and seeds for added crunchiness.
4. Spiced Pumpkin Latte
This delicious hot drink is often laden with sugar and unhealthy flavored syrups at your favorite coffee shop. Instead, make your own at home to be in charge of the ingredients!
Ingredients (for 2 cups):
Brew a cup of your favorite coffee or espresso. In the meantime, heat almond milk, pumpkin puree, and sweetener in a pot (don't boil). Remove from the heat and whisk in the vanilla, pumpkin pie spice, and coffee.
Serve in your favorite cup and sprinkle with pumpkin spice. If your will is strong enough, rather ditch the heavy cream ;-)
5. Pumpkin Spice Energy Bites
Create a batch of pumpkin spice energy bites to energize you throughout the day or to enjoy when you get a snack attack!
Ingredients:
Combine rolled oats, pumpkin puree, almond butter, chopped nuts, and a dash of pumpkin spice in a bowl. Form the mixture into bite-sized balls, roll them in the sesame seeds, lay them on a tray lined with wax paper, and refrigerate for a few hours.
These snacks are a delightful blend of fall flavors and satiating nutrients.
6. Baked Pumpkin Spice Apple Slices
Enjoy the sweetness of baked apples with a pumpkin spice twist.
Ingredients:
Slice apples and arrange them on a baking sheet. Sprinkle with pumpkin spice blend, and then bake at 350°F until caramelized and tender. Add a drizzle of almond butter or sprinkle with chopped nuts for an extra dose of healthy fats.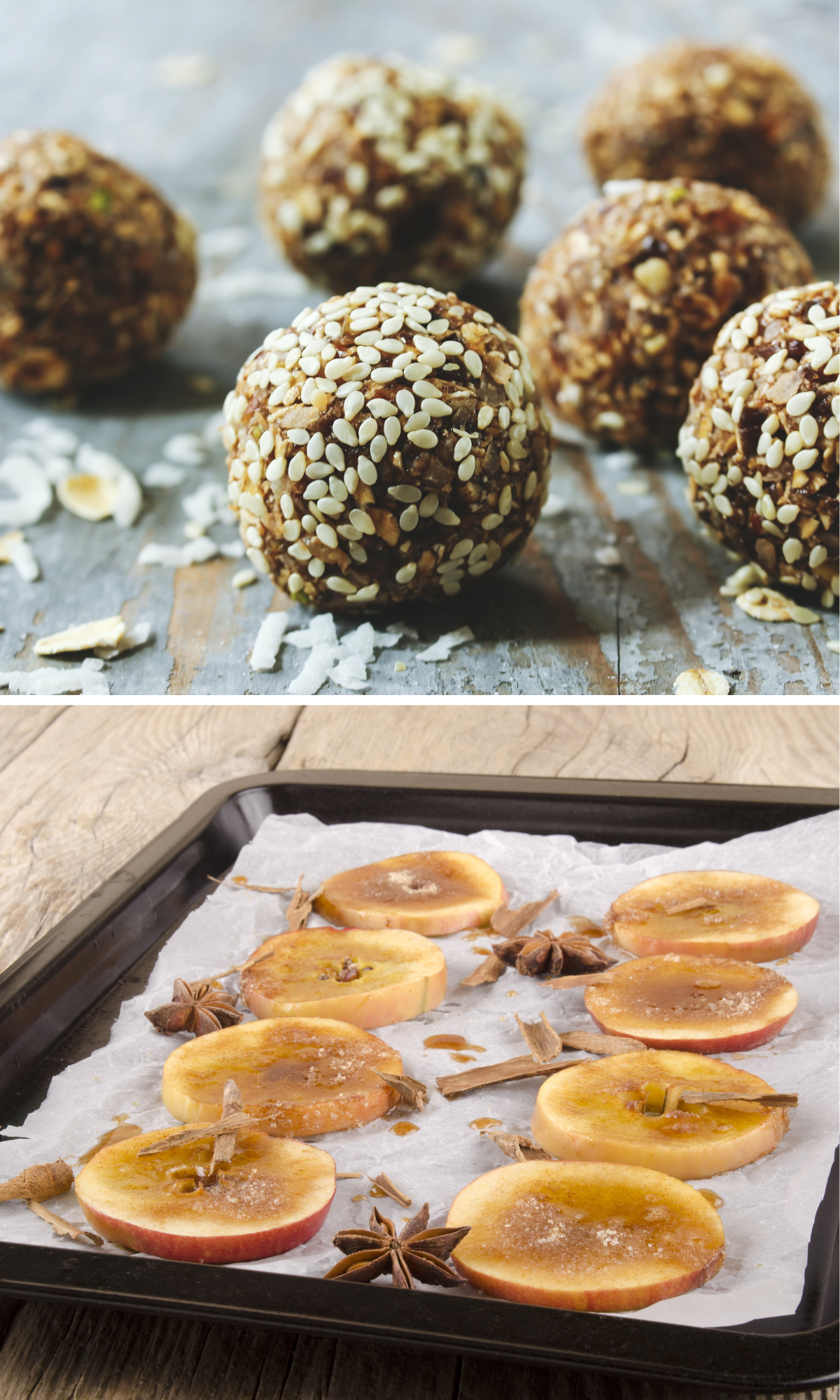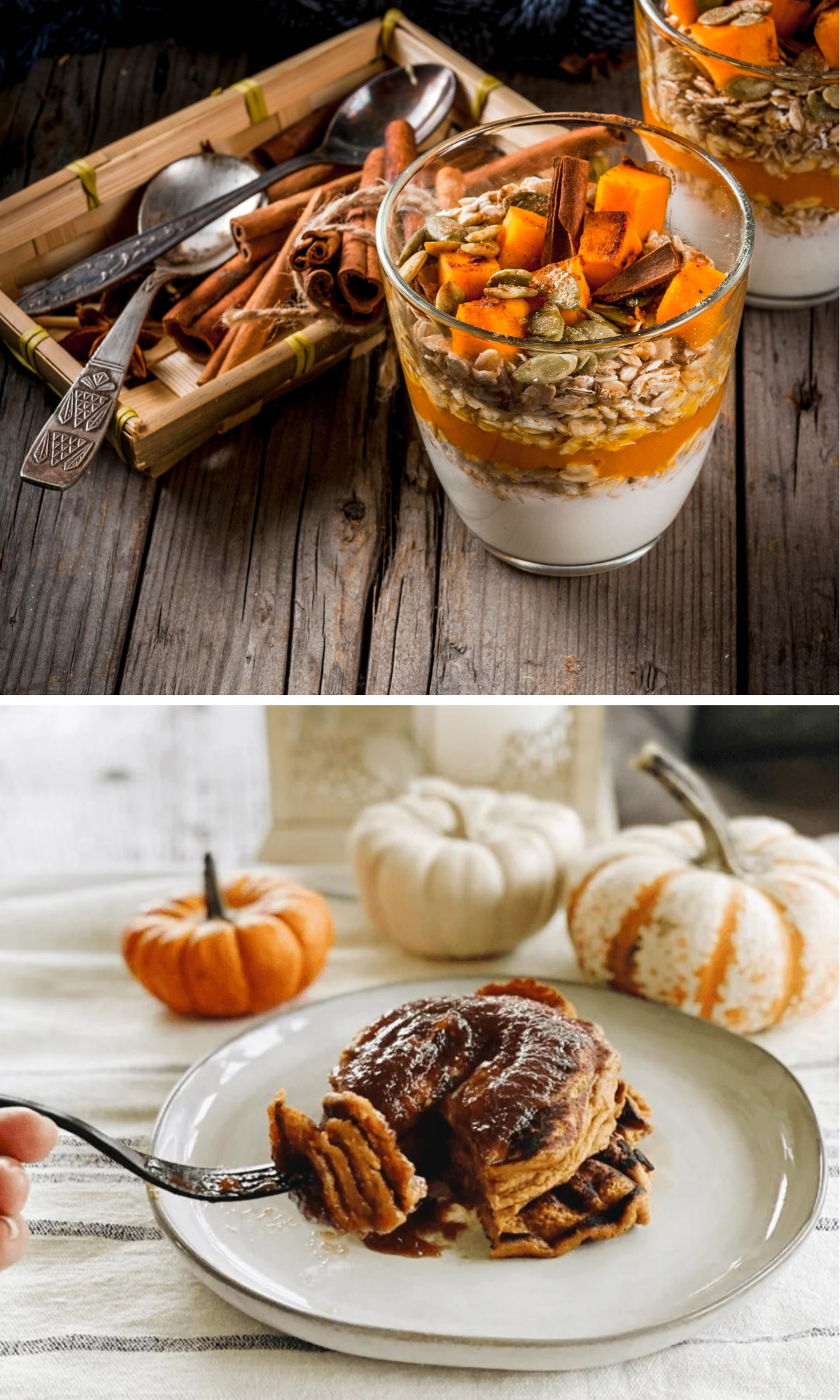 7. Pumpkin Spice Yogurt Parfait
Elevate your yogurt game by creating a pumpkin spice Greek yogurt parfait.
Ingredients:
Layer Greek yogurt with pumpkin puree, granola, and a sprinkle of pumpkin spice. This parfait satisfies your taste buds and provides a healthy dose of protein and probiotics!
8. Pumpkin Pie Pancakes
Start your fall mornings with a nutritious but delicious breakfast!
Ingredients (for 8-10 small/medium pancakes):
Mix all ingredients together. Consistency should be thick but able to mix well. Pour a ladle of batter on a warm skillet and cook for 2-3 minutes each side, (or until browned and some bubbles on top side) Flip and cook again.
9. Pumpkin Spice Trail Mix
Trail mix is great to grab on your way out the door, before a workout, on a hike, or simply when you feel like snacking! So why not make a custom fall mix?
Ingredients:
Create a custom pumpkin spice trail mix by combining roasted pumpkin seeds, dried cranberries, whole-grain cereal, and a touch of pumpkin spice. This mix is an excellent option for satisfying your sweet and savory snack needs.
10. Pumpkin Spice Overnight Oats
Overnight oats are a yummy alternative to the traditional oat porridge breakfast. Spruce it up for fall!
Ingredients:
Prepare a batch of pumpkin spice overnight oats by combining rolled oats, chia seeds, pumpkin puree, almond milk, and a sprinkle of pumpkin spice. Let it sit in the fridge overnight, and in the morning, you'll have a ready-to-eat breakfast that's both nutritious and delicious.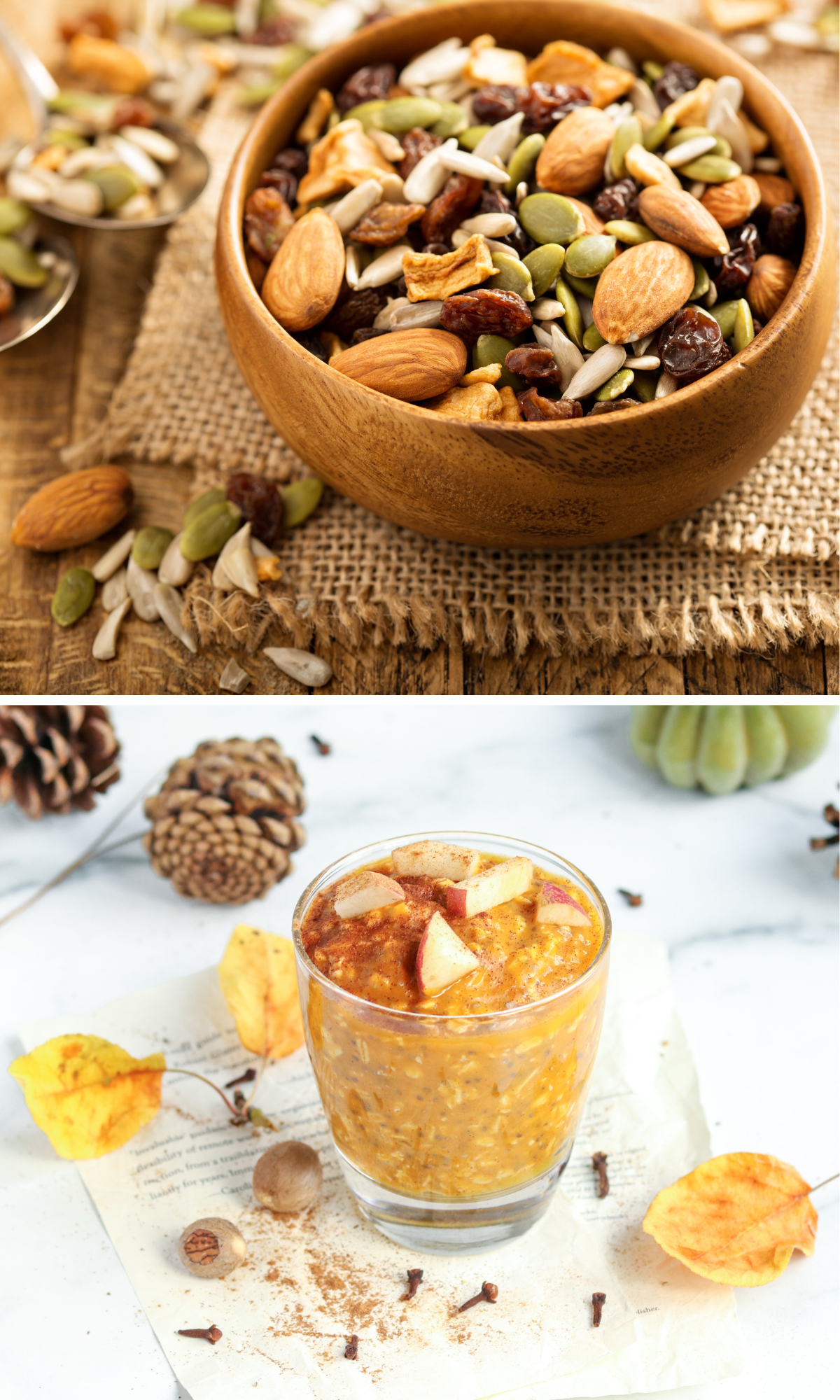 PUMPKIN SPICE FOR LIFE!
You don't have to give up your favorite fall treats to maintain a healthy lifestyle. By making a few simple swaps and incorporating nutrient-dense ingredients, you can enjoy the comforting flavors of pumpkin spice season without sacrificing your health-eating efforts
These alternatives offer a variety of options for breakfast, snacks, and beverages that will keep you satisfied, energized, and warm and cozy throughout the autumn months.
So, go ahead and embrace the season with a pumpkin spice twist that's good for both your taste buds and your health.
* Images are only for visual purposes and not necessarily exact representations of the recipes.
SHOP THESE RECIPES HERE
.